OVERVIEW of Stone Hill Inn
Nestled on a small hill just off the Mountain Road the Stone Hill Inn is an exquisite luxury B&B
that may be one of the most relaxing and romantic places you will encounter. Delightfully decorated rooms include two way fireplaces into the bedroom and bathroom.
Everything about this cozy Inn is soothing and designed to make you forget the world you left. No restaurant, no health club, and no phones. Soft music plays throughout the Inn and in your room upon arrival. A wonderful waterfall cascades through a glorious wildflower garden and Adirondack chairs and hammocks are sprinkled throughout the grounds, perfect for intimate conversations or simply curling up with a book.
In the Living Room, couches and chairs surround a huge stone fireplace and there are game tables and an antique replica pool table. The Solarium, also has a fireplace and club chairs and ottomans surrounding it and looks out over the beautiful grounds. There is wonderful local art and photography throughout and antiques and other interesting pieces combine to complete the look of a warm and comfortable country inn.
THE ROOMS at Stone Hill Inn
The nine rooms are individually decorated and could have stepped out of a magazine. My room, the Catamount, had warm blue walls, a dramatic curtained canopy king bed, a beige Berber carpet, plush navy easy chairs and navy and gold draperies. The sliding glass door overlooked a beautiful flower garden with the mountain range in the distance. The over sized marble bath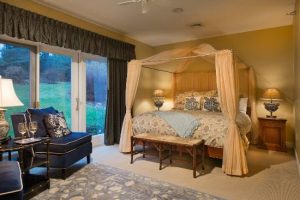 had a two person Jacuzzi, stall shower and a two sink vanity. A two sided fireplace opens to the bath and the bedroom. You can actually sit in the Jacuzzi, and see the gardens and mountains through the roaring fire. Nice!
DINING at Stone Hill Inn
Coffee is available anytime in the kitchen and a delicious breakfast is served each morning from 7:30am to 10am in the bright and airy Breakfast Room. In the colder months, there's always a fire going. There's fresh fruit and muffins and usually three great entrée choices.
THE SERVICE at Stone Hill Inn
There's lots of nice touches here; snacks and drinks in the kitchen, hors d'ouvres every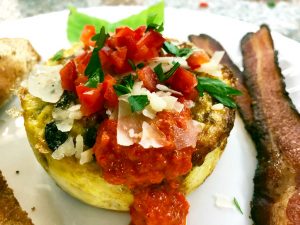 afternoon, candles around the Jacuzzi, soap pump dispensers (not just wrapped bars), oversized thick towels, luxurious monogrammed robes, a single rose at your bedside, a video library, Plasma TV's, light dimmers in your room and a parting gift of maple popcorn.
THE RATES at Stone Hill Inn
From $329 Peak Season weekend.
WHAT OTHERS SAY About Stone Hill Inn
2015 TripAdvisor Hall of Fame
PROMOTIONS at Stone Hill Inn
Click here for this property's promotions.