OVERVIEW of the Green Mountain Inn
Since 1833, the historic Green Mountain Inn, located in the center of town at the base of the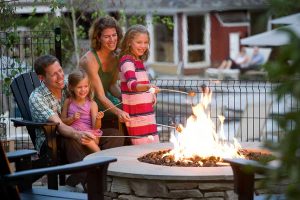 Mountain Road has been welcoming guests to this year round country inn. With 104 antique filled rooms and suites, the Inn has a complete list of amenities, including a restaurant, bar, health club and pool. Yet with all these modern conveniences, it is still able to retain its charm as a Vermont country inn. The cozy living room with bookcases, dark red walls and comfortable chairs around the fireplace is just what you thought a Vermont Inn would look like.
THE ROOMS at Green Mountain Inn
While the rooms in the main inn are quite nice, I prefer the newer luxury rooms in the Mill House and the Mansfield Suites. My last visit was in Room 704 in the Mill House. This was the perfect room for a cold winter night. The rich burgundy colored walls, a plump four poster canopy bed in front of a fireplace and a two person Jacuzzi that opened from the bathroom into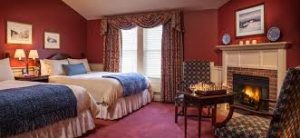 the living area set a wonderfully romantic mood. Add a complimentary bottle of wine, a thoughtful piano concerto CD and thick terry robes and you've got the start to a great evening.
A coffeemaker and delicious Green Mountain coffee are provided and a newspaper is delivered to your door in the early morning. Gilchrist & Soames toiletries round out the list of amenities.
DINING at Green Mountain Inn
There are two restaurants Main Street and the Whip. The Main Street, used exclusively for breakfast, is a beautiful and warm colonial room with a fireplace and views onto Main Street.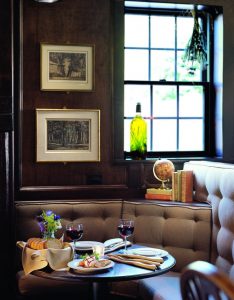 The Whip Bar & Grill is a dark, wood paneled room with booths and decorated with antique buggy whips. It is one of my favorite places in town for lunch, brunch or an afternoon drink.
OTHER at Green Mountain Inn
The Health Club located a few steps away from the Mill House, opens at 7am and has a complete assortment of treadmills, Lifecycles, rowing machines and weights. There's a co-ed steam room, a sauna, a 10 person Jacuzzi and a year round outdoor heated pool.
THE RATES at Green Mountain Inn
From $196 Peak Season weekend
WHAT OTHERS SAY About Green Mountain Inn
This "B&B" like mountain inn, consisting of a 19th century national Historic landmark building along with "comfortable" suites, apartments and townhouses, is the ideal base of operations for skiing and "catching the fall" foliage; though there's a "friendly" staff and a "fun" "quaint" tavern, head into town for decent dining. ZAGAT
PROMOTIONS at Green Mountain Inn
Click here for this property's promotions.