OVERVIEW of the Oyster Point Hotel

Red Bank is just about the hottest town in this part of the Jersey Shore. Great restaurants, a hopping night scene, delightful shops and boutiques and wonderful antique stores are all part of a revitalization project started about 10 years ago. It is working beyond anyone's imagination. This is a fun town, day or night.
If small inns or B&B's are not your style, we recommend the Oyster Point Hotel in Red Bank. While it is about a 20 minute ride from most of what we recommend here, The Oyster Point is an elegant, boutique style, full service hotel overlooking the scenic Navesink River. It is by far the best overall accommodation at the Jersey Shore. It is also close to our two concert venues, the PNC Arts Center and the Count Basie Theatre and our top restaurant, Nicholas, just across the bridge in Middletown.
THE ROOMS at the Oyster Point Hotel
The hotel has 58 guest rooms and 2 suites, all beautifully decorated in contemporary colors and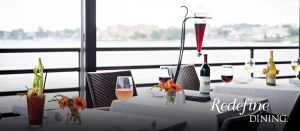 traditional furniture. I particularly like 2 North Suites, bedroom and sitting room, luxury bath, river view and balcony.
DINING at the Oyster Point Hotel
All meals are served in the Dining Room or outside deck. The hotel has a comfortable bar overlooking the water that is particularly lively on Friday nights. Boaters can dock at the hotel and enjoy a meal. The creative menu features items like: Lemon Pepper Seared Swordfish, Sun-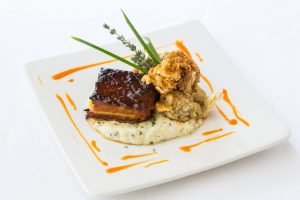 Dried Panko Crunch, Edamame Bourbon Carrot Caramel, Corn Creme Brulee; Turkey Schnitzel, Smoked Cheddar Mac & Cheese, Baby Kale, Ham & Beans, Hot Honey; Dark Beer Braised Boneless Short Ribs, Fingerling Potatoes & Frizzled Onions.
THE RATES at the Oyster Point Hotel
From $261 Peak Season Weekend
PROMOTIONS at the Oyster Point Hotel
Click here for this property's promotions.