OVERVIEW of The Chateau Inn & Suites
Long the standard for accommodations and service in this part of the Jersey Shore, The Chateau Inn and Suites in Spring Lake remains the choice of many, including celebrities who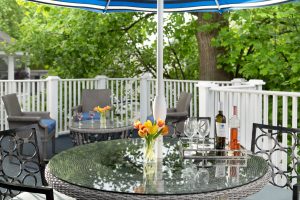 visit the area. They raised the bar even higher a few years ago with their departure from the "Victorian and wicker" decor that characterizes so many places at the Shore.
The location couldn't be better, set in a serene section of Spring Lake, just blocks from the beach and the delightful downtown area, filled with boutiques, galleries and antique stores. The Inn is flanked on one side by Potter Park with a gazebo that features musical events in the summer and on another by Divine Park and "The Lake".
Your introduction to the Inn is a warm lobby with polished mahogany paneling and front desk, fresh flowers and palms and soft lighting. To the right of the front desk is the antique filled Brighton Room with leather chairs, a library, and marble fireplace. Breakfast, afternoon refreshments and coffee and tea are served here at tables looking out onto the park.
THE ROOMS at The Chateau Inn & Suites
The 37 rooms and suites are decorated in a soft palette of beige, cream, gold and brown and offset by dark mahogany furniture, rich Italian fabrics and deep chocolate leather sofas and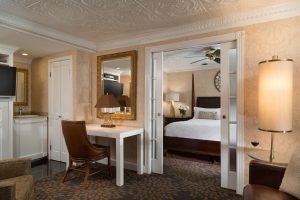 chairs. Plump pillow top beds are covered in luxurious 300 count linens. Artwork is a blend of local, historical and colorful modern and Impressionist styles. Tin ceilings, wood-burning fireplaces, paddle fans, potted palms and sea grass and mahogany blinds complete an elegant "Tommy Bahama" kind of feel. Marble bathrooms feature Aveda toiletries and many have Jacuzzis and/or soaking tubs. Flat screen TV's, DVD's, wireless Internet access and refrigerated wet bars head the list of other amenities.
As with many older properties, no two rooms are alike but all are elegantly decorated. Be sure to ask for details when booking as not all amenities are available in every room. We like the Luxury Parlor Rooms located on the second floor with views of the Lake. In particular, we like the Stockton Parlor with its corner fireplace, four poster bed, leather sofa and balcony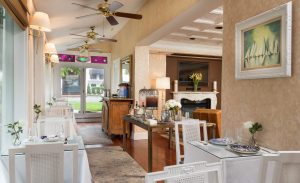 overlooking the Lake. Suites and Parlors have sleep sodas so are ideal when traveling with children.
Most good hotels and inns offer special add-ons to enhance your stay, but frankly I find them to be generally overpriced and don't include them in our review. Here, however, they are not and may explain why so many locals stay here…right in their own backyard….just for a little escape.
THE RATES at The Chateau Inn & Suites
From $305 Peak Season Weekend
PROMOTIONS at The Chateau Inn & Suites
Click here for this property's promotions.