OVERVIEW of Little Pal Island
I went looking for Paradise..and I found it on a small island in the Florida Keys. Among the many wonderful and romantic places we have visited, Little Palm Island stands out as one of the most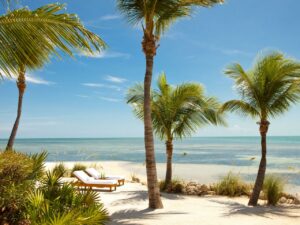 romantic. Private and secluded with ample opportunity to be alone, this is the perfect place for a special occasion, to rekindle a romance or to get one started. Sit on the beach, around the pool or in one of the lounge chairs strategically placed in secluded spots around the island. What could be more romantic than a spectacular dinner served at your private table, set, in the water, on a small sand bar, surrounded by torches that reflect off the water. Add a full moon, a great bottle of wine and the world is your oyster.
Little Palm is truly an island, accessible only by boat or seaplane. 30 cottages are spread around the perimeter of the island in order to enjoy water views. Most activities are centered clustered at one end of the island, so that the majority of the cottages are secluded and away from the the restaurant, pool and bars.
THE ROOMS at Little Palm Island
Guests are housed in private suites which are really free-standing thatched cottages on stilts spread out across the island. Nestled among swaying palms and colorful bougainvillea, they are completely private and leave you feeling as if yours is the only cottage on the island. Most have water views, some better than others. Suites are a spacious 500+ square feet with vaulted ceilings that make them feel even larger. All have king beds, some draped in flowing canopies, ceiling fans, outdoor showers and a small deck with a table and chairs. Bathrooms are huge with a soaking tub and separate shower (ours had three shower heads) and Spa Terre toiletries. The décor is an elegant island/Tommy Bahama kind of theme with dark woods, stone floors, bamboo, rattan and rich fabrics. Beds are draped in luxury linens and comforters and the bath towels are oversized, plush and soft. Our Premium Bungalow Suite (one of a group of recently renovated suites) had a wonderful sitting room with glass doors looking out over the water. It was hard to leave the room.
DINING at Little Pal Island
I knew we were in for something special when we ordered margaritas and chips and salsa for an afternoon snack. The margarita came with freshly squeezed lime juice, the salsa homemade and the chips right out of the oven.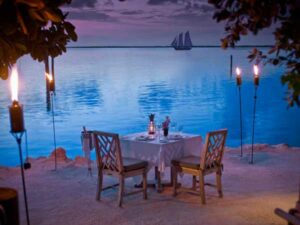 Making time for drinks at the bar before dinner and sampling one of their terrific house martinis is a must. Everyone is relaxed and in "vacation mode" and the conversations are fun and entertaining. Try the Paradise Found, Parrot Bay Passion Fruit Rum blended with mango, Midori Liquor, and topped with 151 Rum or the resort's signature Gumby Slumber, coconut rum, Captain Morgan Spiced Rum, tropical juices, and finished with fresh coconut soaked in Bacardi 151 Rum.
The views would almost be enough to make this an amazing experience, but Executive Chef Luis Pous's seasonally fresh menu with French and Latin influences make it a truly extraordinary one. The menus change daily but we enjoyed tuna tartare with a wasabi foam, Berkshire pork chops with an arugula and red onion salad and blue cheese and a delicious roasted organic chicken with a wonderful black bean salsa.
The wine list is excellent, with all the major regions of the world represented and surprisingly (for a place of this stature) there are lots of reasonably priced choices. We enjoyed an excellent Tocai Friulano, Bastianich, priced at $50.
Breakfast, served on the outside terrace overlooking the water featured freshly squeezed juices and excellent coffee. Our French toast made with homemade bread coated in corn flakes and served with mascarpone cheese and fresh fruit was absolutely amazing.
THE SERVICE at Little Pal Island
Your first experience with the Little Palm staff is when you arrive at the small hut from which you will be whisked by an antique launch to the island. Check-in is swift and efficient and you
are offered a delicious rum punch (or two) while you wait for the boat. The staff is friendly, yet deferential. On the island, when you pass one on a path in their golf cart, they stop and wait for you to go by. As all "great" places, Little Palm makes that extra effort to insure your comfort and enjoyment. There is an espresso machine, juice, soda and water in each room. USA Today is delivered to your suite each morning. At turn-down, candles are lit in your room and there are book lights and water set on each side of the bed. A canvas bag is provided with towels to take to the beach or pool. Binoculars are available for searching the waters and skies, umbrellas are provided for the occasional shower and your room keys have lights in them to make it easy to find your lock when returning at night. The stationary in your room is even engraved with your name! The property is meticulously maintained where even the sandy, gravel walkways are constantly raked by staff members.
THE RATES at Little Palm Island
$3,000 Peak Season Weekend
WHAT OTHERS SAY About Little Palm Island
AAA Four  Diamond Award
"It may be hard "for a place this expensive" to be worth every penny . . . but it is" purr patrons of this "intimate getaway" on a private island (reachable by boat or seaplane), where the "spacious" bungalow suites have their own private decks and no TVs; the "most romantic" spot in the Keys includes "impeccable service", "exceptional" dining and no children under 16 plus the use of cell phones in public areas is highly discouraged." ZAGAT
PROMOTIONS at Little Palm Island
Click here for this property's promotions.