OVERVIEW of the Harborview Hotel
At the eastern end of the Island, perched on a bluff overlooking the Lighthouse and Edgartown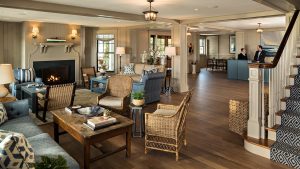 Harbor, the Harbor View Hotel opened in 1891 and remains the island's premier full service hotel. While boasting all the modern amenities you would expect, it still retains the charm and elegance of days gone by. A wonderful wrap-around veranda with rocking chairs is a great place to sit and read or just watch the boats go by on the harbor. This is the best view on the Island for any accommodation.
New owners took possession at the end of 2006 and have been busy making changes and upgrades. The lobby has been brightened and freshened, the exterior has been renovated and many of the rooms have been refurbished.
The grounds are beautifully and meticulously landscaped, awash with flowers and bushes and trees. Behind the hotel there's a heated pool surrounded by a brick patio and wonderful gardens. Food and beverage service is offered around the pool and if you feel like you need some exercise, there are lighted tennis courts just a few steps away.
THE ROOMS at the Harborview Hotel
The rooms are tastefully decorated in yellows, blues and greens with contemporary maple furniture. Many of the beds are canopied and most rooms are oversized. Rooms #313, 315, 316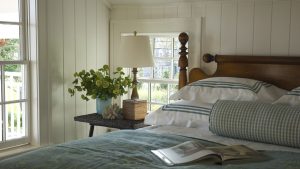 and 415, in the Main Building, are particularly large, have great views of the Harbor and balconies. The new Guest Suites, while without the views, are elegantly furnished in cheerful colors with vaulted ceilings, fireplaces, 4 poster beds, porches and outdoor showers.
DINING at the Harborview Hotel
The restaurant, called Lighthouse Grill is under the direction of Executive Chef Richard Doucette who showcases native island seafood, produce, meats and poultry from centuries-old producers, including Allen Farm, Morning Glory Farm, and Whippoorwill Farm. How can you not like a menu that has Pigs in a Blanket as an appetizer? But also, Lobster Tacos, Lamb Cassoulet,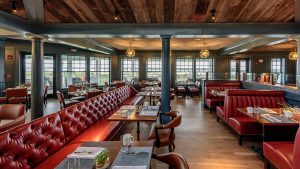 Blackened Swordfish and Maple Brined Kurobuta Pork Chops.
The more casual restaurant, Henry's, features a "small plate" menu and a new wine list about to be introduced of all California and Spanish wines. I had a wonderful Katama Farm chicken with Mennonite dumplings, braising greens and pan gravy on my last visit and it was delicious.
THE RATES at the Harborview Hotel
From $975 Peak Season Weekend
WHAT OTHERS SAY About the Harborview Hotel
"It's worth the ferry ride for the fantastic brunch (the food's overseen by Drew Nieporent's Myriad Restaurant Group) and to enjoy incomparable vistas from the wraparound porch, with rocking chairs overlooking the lighthouse at this Martha's Vineyard hotel on the edge of Edgartown; though it opened in 1891, the rooms are modern and a bit glorified motel-like but the real problem is that the hotel occasionally attracts a tour bus group, which changes the ambiance; happily, one can escape to the lovely beach a short walk away." ZAGAT
PROMOTIONS at the Harborview Hotel
Click here for this property's promotions.