OVERVIEW of the Charlotte Inn
If I only had one more day on this fine earth, I just might want to spend it at the Charlotte Inn.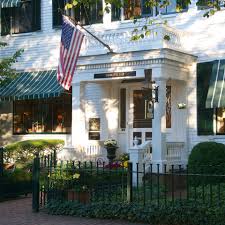 This is a magnificent inn with museum quality antiques and oil paintings that still manages to be one of the most comfortable places I have ever stayed. The owners, Gery and Paula Conover have created and maintained one of the most glorious inns I have ever encountered. The attention to detail is extraordinary. Unobtrusive staff members are constantly trimming bushes, clipping dead flowers, sweeping sidewalks and polishing brass railings.
The Inn is a tranquil oasis located just a block from the bustle of Main Street in Edgartown. The property is actually a compound of 5 buildings surrounded by a waist high heavy black iron fence. Within, the manicured lawns are bounded by sculpted hedges, potted ivy and colorful flowers. A brick walk meanders through the property past a gold fish pond with a softly bubbling fountain and under an arched hedge leading to small secluded patios along the way, festooned with flowers, comfortable patio chairs and sofas.
On one visit I spent a wonderful cloudy afternoon on a sofa on the porch at the Summer House.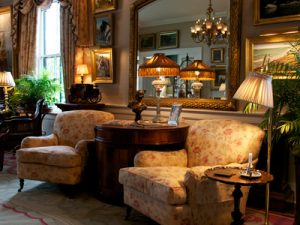 I read, I dozed, I read, and I dozed. The only sound I heard was the fountain in the gold fish pond.
Guests are welcomed in the Main Building at an antique mahogany desk and asked to sign an old guest ledger. A welcome diversion from our computerized world. The Living Rooms are formal and beautifully decorated in Edwardian era antiques, but the most stunning public room is the Green Room. There can be no finer room in any private men's club in the world. Mahogany paneled walls, softly lit hunt oil paintings, a ceiling to floor paned bay window overlooking the gardens, easy chairs in front of the fireplace and subdued lighting from brass floor lamps. The room, used for breakfast, tea and cocktails, is set with three groups of mahogany tables and chairs and a serving cart and sterling tea set. A fire, a cocktail, something to read…not a bad way to spend your time.
THE ROOMS at the Charlotte Inn
While all of the rooms are spectacular, many with fireplaces, private terraces and brick courtyards, my favorite is Room 14 on the first floor in the Summer House. I could have never left this room during my visit, it was so comfortable. The room and the bathroom are huge and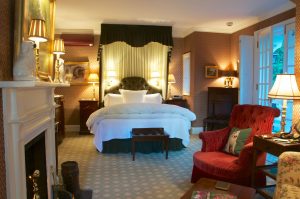 feature an antique desk and chair, a baby grand piano, a fireplace with two very comfortable club chairs on either side, book shelves, a dressing table with sterling silver brushes, combs and mirrors, oil paintings, a table with a sterling wine bucket and two decanters, one scotch and one gin, sterling silver vases with fresh flower bouquets, a Bose radio and plasma TV, Bvlgari toiletries, a 4 poster queen bed, brass lamps and colors of hunter green and burgundy. High quality linens on a feather bed made for a wonderful sleep. Wow!
The bathroom is equipped with two mirrors, a heated towel rack, a clothes hamper (don't you always wonder where to put your dirty clothes?) and the best shower, bar none, that I have ever
used. They even think to provide q-tips, cotton swabs and feminine products. Oh yes, the bathroom glasses are cut crystal.
The Inn is a member of the prestigious Relais & Chateaux organization. I will return to the Charlotte Inn every year. Not just because of my business, but because it is one of my favorite places to stay anywhere. A romantic weekend here will rekindle or ignite any relationship.
A recent visit reinforced my belief that this is a very special place. My room, #3, was a suite over the Carriage House. It was spacious and comfortable with a fireplace, wonderful antiques and, once again, a killer shower.I didn't want to leave…
DINING at the Charlotte Inn
The Inn's restaurant, The Terrace, has, in a relatively short time, become one of the island's best fine dining restaurants. See our review.
THE RATES at the Charlotte Inn
From $875 Peak Season Weekend. Breakfast is included in the rate.
WHAT OTHERS SAY About the Charlotte Inn
AAA Four Diamonds Award
Forbes Four Star Award
"Like staying in an English aunt's home, this romantic Edgartown Relais & Châteaux inn that dates to 1864 is a charming choice for a weekend on the Vineyard; wonderfully kept lawns, cozy common areas with fireplaces and sophisticated dining…are to be expected from a member of Relais & Châteaux…" ZAGAT