OVERVIEW
Cape May is a seaside resort at the southern tip of New Jersey. It is known for its Victorian

homes, 3 block pedestrian mall and the Cape May Lighthouse. It is a bustling town in the heart of the summer season, but equally as enchanting in the "off-season."
The Beach Plum farm is a working 62 acre farm open to the public. Since opening in 2008, Beach Plum Farm has grown to produce over 100 kinds of fruits and vegetables as well as chickens, eggs and Berkshire Hogs. The Farm provides produce and meats to local Cape May restaurants including The Ebbitt Room, the Blue Pig Tavern, the Rusty Nail, the Boiler Room, Louisa's Café and more.
There are four elements to the farm; the Farm itself; the Market, selling fresh produce, local products and housewares and gifts; The Farm Kitchen, featuring a menu based on what's fresh in the fields that morning and serving breakfast and lunch at a picnic tables surrounded by greenery and sun. The Kitchen also hosts the Farm to Table Dinner Series. Finally, The Farm Cottages, six historic cottages and barns situated right on the farm that sleep 6-8 guests each.
THE ROOMS
There are six cottages and barns on the property, each sleeping 6-8 people including an original 18th-century Whaler's Cottage, complete with spiral staircase and kids' loft; an original 1930's Sears, Roebuck home; and an 1850's carriage house.
We stayed in the Whaler's Cottage, built around 1780, making it one of the oldest homes in the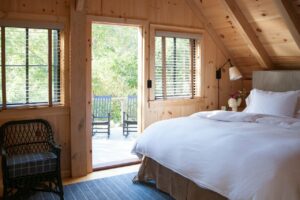 area. The cottage has three bedrooms, a screened in porch, a gas fireplace, an outdoor fire pit, a patio with gas grill, an outdoor shower and a fantastic cook's kitchen. Beds are draped in Belgian cotton linens and bathrooms feature Beach Plum bath products inspired by herbs found on the farm
DINING
Breakfast and lunch are available in the Farm Kitchen and most of the menu items are from products grown or raised on the property.
The Farm-to-Table Dinner Series, however, is something special. These dinners are a celebration of Beach Plum Farm's seasonal harvest, featuring farm raised meats, organic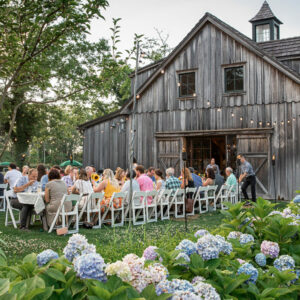 produce, and garden herbs. Dine under the stars, or in their festive hoop house, depending on the weather. They are available weekends throughout the year and on Holidays and Special Occasions. All dinners are BYOB.
We enjoyed a magical Valentine's Day Dinner that included passed hors d'oeuvres and oysters, followed by a delicious oyster stew, a winter greens salad with beets and a citrus vinaigrette, potato gnocchi with duck confit, brown butter and winter truffle and a roasted Pekin duck, Swiss chard, local mushrooms and Beach Plum honey. Dessert was a Bittersweet chocolate mousse with a hazelnut praline and crème Chantilly
SERVICE
Staff is pleasant, engaging and friendly. A server overheard us talking at dinner about starting a fire in our firepit when we returned from dinner and he said, "don't worry, I'll take care of it."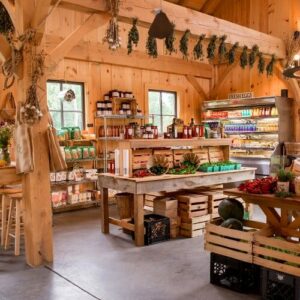 When we returned from dinner, there it was… a roaring fire in our firepit.
Guests are given golf carts to navigate the property and they can also be used to go downtown.
To our delightful surprise, our refrigerator was stocked with fresh eggs and bacon from the farm, artisan butter and sour dough bread.
RATES
$1600 Peak Season Weekend. 3 bedrooms
WHAT OTHERS SAY…
"…checked in to one of the cottages and ended up finding everything needed for the perfect Covid-era retreat, including privacy, autonomy, outdoor space and kitchens stocked with fresh, flavorful items grown or made just steps from my door." Robb Report