OVERVIEW of The American Club
The American Club is testament to what one man can do if he has the resources and a vision. Built in 1918 to house immigrant workers for the Kohler Company, the Tudor style building with slate roofs, dormers and red brick exterior, was considered an architectural marvel and an example of employer benevolence at the time. Many changes occurred over the years and in the early 40's the property changed from a worker's dormitory to a public inn.
Flash forward to the late 70's when Herbert V. Kohler, Jr., grandson of the founder of Kohler Co., and the firm's current chairman and president decided to convert the aging property to a world class resort. What followed is a remarkable story. The Club was transformed into a luxury resort, The Black Run Golf course opened in 1988 and a short 10 years later hosted the Women's U.S. Open, the Whistling Straits course opened in 1998 and incredibly hosted the PGA Championship only 6 years later. A world class spa was added in 2000 and a magnificent wildlife preserve and private club in 2002.
The setting here is reminiscent of the great courses in Scotland and Ireland which makes sense because Kohler also owns St. Andrews in Scotland.
If you are an outdoors man, there may be no better resort than this. Spectacular golf, world class fishing (we saw huge salmon jumping in the river while we played golf), terrific hunting (they'll even cook what you shoot at the River Wildlife restaurant) and if your traveling companion prefers the indoors, the Spa is worth the trip alone.
This is an American gem and worth every minute of the trek to Wisconsin.
THE ROOMS at The American Club
The American Club evokes thoughts of a wonderful, stately English Tudor country house with its brick facade, leaded windows, courtyard gardens and richly appointed interiors. When the decision was made in the late 70's to convert the inn to a first class resort, local craftsmen recreated details of wood moldings, original chandeliers were duplicated, and antiques dating from as early as 1730 were found to convey the heritage of the building.
One wing was added in 1981 and another in 1993 bringing the total number of guest rooms and suites to 237. In both additions red brick and slate roofs were replicated and even rustified to give a patina consistent with the older historic wing.
Accommodations are available in The American Club (in the Main Building or the Carriage House over the Spa) or at the Inn on Woodlake. Our preference is the Main Building. There are four basic room categories and four suite categories. The primary difference is room size with Standard Rooms (lowest room category) in the 270-350 sq. foot range to 500-600sq. feet for Heritage Rooms (highest non-suite category). Deluxe category and higher feature a sitting area.
Rooms are individually decorated, each with its own elegant styling, with furnishing from Baker or McGuire and of course, bathrooms feature the latest Kohler fixtures and Kohler Spa toiletries. Comfy beds are dressed in luxury linens with down comforters and the towels are thick and soft
American Club guests receive complimentary access to the Sports Club, advance tee times to Blackwolf Run and Whistling Straits and can purchase a land pass to River Wildlife a 500 acre private wilderness preserve.
The American Club has been the recipient of the AAA Five Diamond Award for 24 consecutive years.
DINING at The American Club
The Immigrant
Start your evening at The Immigrant with a stop at the adjacent Winery Bar where you'll find a nice selection of wines by the glass and some very cool martini concoctions like a Basil, Honey Syrup, Bacardi Rum, Lime Juice and a Basil, Chopin vodka, fresh raspberries and Chateau Grand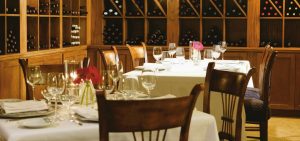 Destieu Bordeaux. Also a great place to sample Wisconsin cheeses before or after dinner.
The resort's showcase restaurant is a series of 6 intimate rooms decorated in the style of early European settlers in Wisconsin. The AAA Four Diamond Restaurant is also a Wine Spectator "Best of Award of Excellence" winner and a DiRoNa winner.
The contemporary menu was terrific and served without effort from a well-trained staff. We started with a shared black truffle and wild mushroom risotto topped with shaved black truffle and a Parmesan cheese and mushroom cream. That was followed by a fantastic pan-roasted Dover Sole and New England Lobster  with a caviar, Champagne Sabayon and a butter-poached and seared veal short ribs with crispy sweetbreads and a whole-grain mustard sauce.
For dessert, we were in Wisconsin, so a cheese tasting course was in order. We adjourned to the Winery Bar were we sampled 3 aged cheddars; 5 years, 7 years and 10 years old with a wonderful glass of Churchill's, 10 year, Bottled 2003
This wine list has a lot of big names and none with a rating of under 88 points from the Wine Advocate. Sadly, as too often happens, it seems to have been developed more with that in mind than making it accessible. There are way too many $100+ bottles, not enough in the $40-$60 range and not enough 1/2 bottles.
Open June-October Monday-Saturday. Dinner Only. Jackets are required for gentlemen, and reservations are strongly suggested.
What Others Say About The American Club
"New York is no match for this fabulous find in Kohler's chic American Club with appropriately American inventive eats, an extensive wine list and possibly the best domestic cheese selection; the tabs can be terribly expensive, but admirers insist it's a real treat" ZAGAT
The Wisconsin Room
There's history here as this was the original dining hall of the immigrant workers for the Kohler Company and features antique chandeliers, leaded glass windows, floral print draperies and elegant furniture from Baker. It is open year-round.
The menu highlights regional favorites including salmon, walleye and trout, turkey, venison, duck and beef all served with local produce and cheeses.
Breakfast Monday-Saturday. Dinner, daily.  Sunday brunch. Resort casual attire.
River Wildlife Lodge Restaurant
Set in the midst of a lush forest in a rustic log cabin the Lodge Restaurant is a must stop for lunch and/or dinner during your visit. The living room is anchored by a huge stone fireplace surrounded by couches and chairs and is perfect for a pre or post dinner cocktail. There are six cozy dining areas decorated in a kind of Adirondack style with wood furnishings and fresh wildflowers. We had an amazing lunch of homemade soups and chili and an unforgettable pheasant BLT. Dinner features items like salmon, halibut, pheasant, walleye and elk. Good wine list with reasonable prices.  This ranked up with The Immigrant as restaurant favorites here.
Available to River Wildlife members and resort guests with a purchased entry pass. Lunch Monday-Saturday, Dinner Friday and Saturday and Sunday Brunch.
Whistling Straits
This restaurant with a British theme is located in the Clubhouse of the this golf course and enjoys wonderful views of Lake Michigan. It's ideal if you are looking for a little more than a pub meal, but something less formal than fine dining. Unlike many clubhouse restaurants Whistling Straits is warm and cozy with personable servers in a festive kind of atmosphere. It is a AAA Three Diamond Award winner and a Wine Spectator Award of Excellence winner.
We started with mini grilled Kobe burgers with ten- year Wisconsin cheddar served with an orange onion marmalade and white truffle oil. Could have eaten three servings of these. This was followed by a pan seared and slow roasted quail with a Wisconsin porter and honey glaze and a a warm fingerling salad with confit of duck and smoked bacon. We split a chocolate chip and macadamia nut-studded deep-chocolate brownie, served with a scoop of Bailey's ice cream and a chocolate Marsala crème à l'anglaise.
Wine was a Kaiken Ultra Mendoza 2005 Argentina reasonably priced at $42.
Open year round from 6am. Breakfast buffet before golf, lunch and dinner.
Blackwolf Run Restaurant
Overlooking the Sheboygan River, with panoramic views of the Pete Dye-designed championship golf courses, Blackwolf Run Restaurant is a perfect stop for lunch. Dine in front of a huge fieldstone fireplace or, weather permitting, enjoy outdoor dining on the terrace, overlooking the 18th greens of the River and Meadow Valleys courses.
We enjoyed a delicious corn sausage chowder, a decadent stuffed cheese steak, slow-roasted beef and pork tenderloin, onions, mushrooms, Cheddar and Swiss cheeses, roasted- pepper mayonnaise all stuffed in an Tuscan roll and baked.
Open year round from 6am.
Horse & Plow
Enjoy casual pub fare and an excellent selection of American micro-brews and premium European beers. Decorated in rich wood, brass and stained glass, this casual historic tavern was once the tap room for Kohler Co. workers who lived at The American Club®. Booths convey a cozy atmosphere, while the tabletops, made from the original American Club bowling alley, perpetuate the historic tradition of Kohler Co.
June-October. 11am-Midnight. Lunch and dinner. Sunday breakfast.
The Greenhouse
This charming antique solarium from Chorley, Lancashire in the north of England, was meticulously dismantled there, transported halfway 'round the world, and reassembled piece by piece to stand in its current home  – The Fountain Courtyard.
It now serves as a garden café for afternoon and evening refreshments a selection of desserts, homemade ice cream, European pastries, coffees and specialty drinks.
June-October. 8am-9pm.
Craverie Chocolatier Cafe
Reminiscent of a French café, the Craverie offers banquette seating as well as comfy, oversized leather chairs, a warm fireplace, chandeliers, mirrors galore and a splendid view of Wood Lake. For lovers of chocolate, the Craverie is the home of KOHLER Original Recipe Chocolates, the definitive chocolate experience. It also offers an assortment of exotic pastries, sandwiches, churned gelatos and other exquisite desserts. Craverie Lean presents kettle soups, salads, savories, sorbet and desserts that are big on taste and texture, but light on calories.
Open May-October.7am-9pm.
THE RATES at The American Club
From $725 Peak Season Weekend
WHAT OTHERS SAY About The American Club
AAA Five Diamond Award – Lodging
Forbes Five Star Award – Lodging
Forbes Five Star – Spa
Forbes Four Star Award – Dining
"A class act in the middle of golf heaven, this Tudor-style paradise for bathroom fanatics (big enough for a family of four with Kohler installations and Ann Sacks tiles) is a world-class resort and spa where high-end quarters and the superb Immigrant restaurant help to create an ultimate hotel experience; other pluses include advance tee times at the incredible Blackwolf Run and Whistling Straits (the latter was voted No. 1 in our America's Top Golf Courses Survey) and complimentary access to an extensive health and racquet club." ZAGAT
PROMOTIONS at The American Club
Click here for this property's promotions.
---