OVERVIEW of Port D'Hiver
Port d'Hiver in Melbourne Beach, Florida. Melbourne Beach is a delightful, uncrowded town on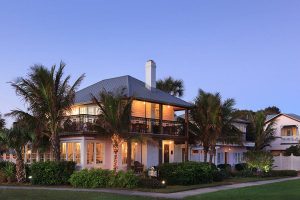 the eastern coastline and this is a B&B that has raised the bar on our expectations of what a B&B can be like. It is a gorgeous historic property with beautiful rooms and exquisite service. Set in its own little compound surrounded by bamboo fencing across from the beach with meandering brick pathways, waterfalls, vibrant, colorful gardens, draping bougainvillea, intimate little nooks for reading, a spa pool and a couple of fire pits where fires are set in the morning and at the end of the day to take the chill off.
The inn is owner operated which always results in a better experience and the owners have taken great care to anticipate the needs of their guests. This is an extraordinary value with a four star experience at two star prices. It is a place to which we will return when we need a warm weather escape.
THE ROOMS at Port D'Hiver
There are 11 exquisitely decorated rooms spread throughout the property. Rattan furniture, hardwood floors and ceilings, gorgeous antiques, rich fabrics and vibrant colors carry an elegant tropical theme. The décor reminds me of the fantastic Little Palm Island cottages. Luxury linens drape the beds and there are fresh flowers to add color each day. Some rooms have whirlpools, some have ocean views and most have balconies or patios.
Our Indian River Room was spacious with a king-sized tiger maple bed with down duvet and fluffy pillows, an amazing 17th century French wedding armoire and a private porch overlooking the pool. Couldn't have been more comfortable.
DINING at Port D'Hiver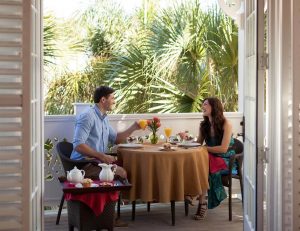 As a B&B, breakfast is the only formal meal served and it is quite special. We started with a cup of fruit, fresh juice, delicious coffee and a warm, homemade banana muffin. There are two entrees offered or they will make you whatever you want. We had a broccoli and cheese strata, layered croissant, broccoli, cheese, ham and eggs, served with crisp Applewood bacon and a creamy potato with a crispy cornflake crust.
THE SERVICE at Port D'Hiver
The staff is warm, friendly and engaging. They appear to really enjoy working here and it is evident in the way they treat the guests. Turn-down service is offered (unusual for a B&B), there's homemade chocolate chip cookies and drinks throughout the day, a snack closet, beach chairs and towels, bicycles and fresh flowers on all the tables and in the rooms.
Here's a great example of the level of service. We purchased some fresh OJ and cheese to enjoy on our porch. When we returned to the room, each had been set up in its own ice bucket to keep it fresh.
THE RATES at Port D'Hiver
From $480 Prime Season Weekend
WHAT OTHERS SAY About Port D'Hiver
AAA Four Diamond

"Top 10 Romantic Inns" ILoveInns
Diamond Collection, BestandBreakfast.com
"Bypass the big hotels and resorts for an intimate stay at a luxurious bed and breakfast with elegant rooms, gourmet food and impeccable service. Port D'Hiver is a dream beach house…." The Travel Channel
Select Registry member
PROMOTIONS at Port D'Hiver
Click here for this property's promotions.