Rao's was opened in 1896 in East Harlem, NY and is, today, one of the oldest family owned and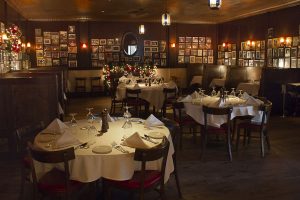 operated restaurants in the country. Its 10 seat NY restaurant is the hardest reservation to get in town. In fact, unless you have "table rights" (a standing reservation for a particular night) or are invited to dinner by someone who does….you won't get in. On any night the restaurant is filled with politicians, sports figures, Hollywood stars and mobsters. It's quite a show.
I had never been to the NY location, so I was thrilled on my last visit to find that they had opened a Las Vegas outpost (LA, now too) in Caesar's Palace. And, you can get a reservation! I must admit, I was a little apprehensive as years of hearing how great it was made me wonder if it would live up to the hype. It did…and more.
The leather backed booths, the framed pictures of celebrities on the walls, the hardwood floors and the dim lighting scream "old school" Italian. It is warm and comfortable and the people are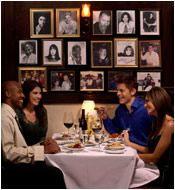 delightful.
Here's my perfect meal at Rao's. Start with an order of Rao's Traditional Meatballs. Ground Veal, Pork and Beef, Italian Breadcrumbs & Seasoning with Marinara Sauce. They were as good as everyone said they would be. Then get some Baked Clams. Little Neck Clams with Oregano Bread Crumb Stuffing. This pasta course was fantastic. Ravioli Purses. Beggar Purse Ravioli with Bartlett Pears and Ricotta Cheese, Brown Butter, Sage, Dried Cranberries. My entree was Uncle Vincent's Lemon Chicken. Charcoal Broiled, Bone-In Chicken with Uncle Vincent's Famous Lemon Sauce and I got an order of Rosemary Roasted Potatoes to go with it. Dessert was a Cannoli. Fresh Ricotta Cheese, Cointreau, Candied Orange, Chocolate Drops.
Good wine list with reasonable pricing. Happy Hour 4-6:30 at the bar. $8 drinks.
ROMANTIC QUOTIENT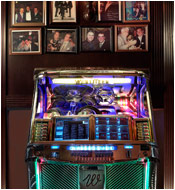 This is a dark and sexy restaurant, perfect for a little assignation.
WHAT OTHERS SAY…
"If you can't get into" the storied Gotham original – and "who can?" – this "larger" outpost in Caesars Palace is the "next best thing", replicating the East Harlem site's "down-home" Neapolitan cuisine and "wonderfully atmospheric Old New York" setting; cynics argue that "its reputation's far grander than the experience" and cite "jaw-dropping" prices, though others insist the "warm" service and overall "quality" are reason enough to snag a "rezzie." ZAGAT