From the minute you walk through the curved iron gate of the Peninsula Grill opening onto the
side garden patio, you sense you are in for something special. Entering through a side door, you pass the beautiful dark bar, and reach a subtly lit, elegant dining room that reminds you of a very exclusive club. The walls are covered in rich velvet with antique Cyprus woodwork, 19th-century oil paintings and contemporary renderings of local plantation life.
The staff is friendly, knowledgeable and utterly professional; there when you want them, not when you don't. You marvel at the expert choreography of the staff as they move effortlessly through the room. We watched in awe as a table of 8 was served, exactly as one, with the help of four waiters.
I started with a glass of Tattinger and a half dozen oysters, so fresh you could taste the sea. They were arranged on the plate, three on the left from the West Coast and three on the right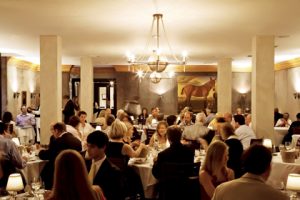 from the East Coast (makes sense, huh?) and served with a tangy Champagne Mignonette. Jenny had Lobster '3 Way'…Ravioli, Tempura and Sauteed with Warm Tomato-Basil Vinaigrette and it just may have been the best appetizer she ever had. The appetizers were served with steaming hot bread that was soft and fluffy inside and thick and crusty out. Perfect for getting up every last ounce of sauce.
For my entrée I chose the Yellow Fin Tuna that was perfectly cooked and lightly doused with an incredible toasted pecan, rosemary butter, a combination I would not have thought of, but worked so well. A side order of Vidalia mashed potatoes was the perfect accompaniment. Jen selected the benne crusted New Zealand rack of lamb with wild mushroom potatoes and a coconut mint pesto. It was juicy and tender and pink on the inside with a delicate crust outside.
The menu offers steaks and chops and salmon and grilled swordfish with 8 sauce choices; blue cheese-balsamic glaze, fois gras truffle butter, béarnaise, brandy peppercorn, ginger-lime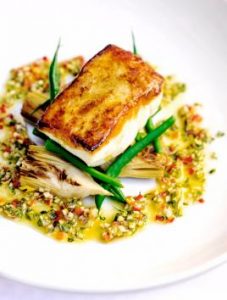 butter, horseradish cream and maitre d' butter. This is a great idea. And certainly beats the standard sauces offered by so many restaurants.
The wine list is extensive and interesting and is a Wine Spectator Award winner. While once we thought this list was an incredible value, prices have creaped up dramatically over the last few years. Still values to be found but not as many.
We are not much for dessert, but we couldn't resist former Chef Carter's signature Coconut Cake from an old family recipe. It was indescribably delicious, enough to convert even us to dessert eaters.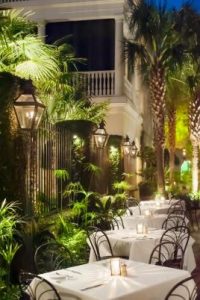 Weather permitting, I would suggest eating outside. The patio and garden is beautiful and with the flickering candles, quite romantic. Inside we like tables #71 and #72, along the wall and next to the windows that face the patio. Even in a bustling room, these tables seem to be more private.
It was a magical evening with people who felt like friends. This is a very special place, owned and managed by people who really care. It is not a place to be missed when you are in Charleston.
ROMANTIC QUOTIENT: High. See table recommendations above.
What Others Say
– AAA Four Diamond Award – Dining
– Forbes Four Star Award – Dining
– "America's Top 50 Best Hotel Restaurants" Food & Wine Magazine .
This "classic dining room" in the French Quarter's "historic" Planters Inn offers "gastronomic bliss" via "sublime" interpretations of Low country classics; diners are "lavished with attention" from servers who are "amazingly in sync" as they work the "elegant" but "not over-stuffy" velvet-walled space, which features "loads of Southern charm." ZAGAT