When a steakhouse is done right it's dark and sexy, with a touch of elegance, has intimate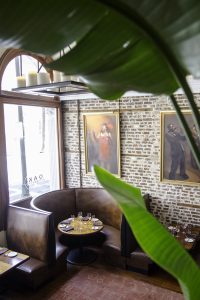 seating and great food and wine. It's as perfect to close a business deal as it is for a romantic interlude. Not too many get it right these days….but the Oak Steakhouse in Charleston does. I've been lamenting the decline of the old steakhouses in New York in favor of sleek, cavernous upstarts, but after my experience here, I am heartened that some people still get it.
Start with the design. Housed in a 150 year old former bank, the space retains much of its old charm; 18 foot ceilings, arched doorways, mahogany paneling and pine floors. There are three floors of dining. The main floor houses the antique bar and wonderful circular leather booths (I'm a booth guy!). The room is dark and intimate with brick walls, antique mirrors, jazz inspired artwork and splashes of light. There's an exciting vibe here. The second floor and third floors are divided into small, cozy dining rooms, with working fireplaces on the third floor. The best tables look out the huge front windows overlooking Broad Street.
The menu reminds me of The Palm in New York, classic steak with an Italian component. But that's where the similarity ends. This was the best steakhouse meal I have had in some time.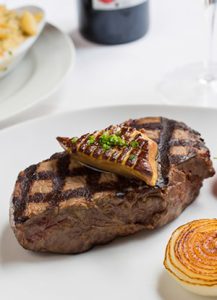 Classic Steak Tartar came with capers, cornichons, parmigiano-reggiano and crostini. For once my steak came out right the first time…just pink…with a crispy crust and Oak's house made streak sauce. Absolutely perfect. Classic creamed spinach had just the right amount of cream and spices and Parmesan that still allowed the flavor of the spinach to come through. Truffled pomme frites was a perfect accompaniment.  I paired my meal with a delicious Frank Family Cabernet Sauvignon at $23 the glass.
Dessert was an utterly decadent, a Creme Fraiche Cheesecake, almond crust, cherry white chocolate macaron, with a goat milk dulce de leche center.
The wine list is solid with some 200 bottles, @ 20 wines by the glass in the $9-$23 range and good representation from the major regions.Would like to see more Cabs under $100.
ROMANTIC QUOTIENT: High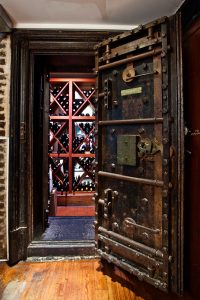 WHAT OTHERS SAY…
"A 150-year old former bank has been transformed into a three-level stunner [Oak Steakhouse]." Bon Appetit,
"As much of the local food gossip these days centers on who serves the best beef " the Oak Steakhouse" The New York Times
This "upscale" Broad Street steakhouse set in a renovated 150-year-old bank building offers "exemplary", locally sourced beef and "impressive" wines in a "lively environment" that's "classy yet comfortable"; "attentive" service completes the special-occasion experience, which is priced accordingly, but "worth every cent." ZAGAT