Located in a townhouse in Beacon Hill, just across from the Boston Commons, No. 9 Park is on just about everyone's list of favorites. It is a small (@16 tables) and intimate spot with wonderful food and wine and near perfect service.
The restaurant and Chef/Owner Barbara Lynch have been awarded numerous accolades over the last few years. She was named one of the "10 Best New Chefs in America" by Food and Wine Magazine, The James Beard Foundation named Lynch "Best Chef Northeast" and Boston Magazine touted her as "Best Chef in Boston."  The restaurant was named among the "Top 25 New Restaurants in America" by Bon Appetit and Travel & Leisure named No. 9 one of the "Top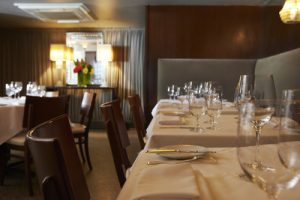 50 Restaurants in America."
You enter the restaurant into the bar area which has a long bar and tables for cocktails or to enjoy a bar menu. Straight to the back through an arched doorway is the main dining room with about 10 tables. A large mirror flanked by green curtains, lamps and flowers centers the room. There are two tables down the middle and the others in taupe banquettes along the walls. Beaded hanging lights create an intimate feel. Crisp whites, gleaming china and crystal complete a picture of casual elegance. To the right of the entry is another dining room with about six tables and while the Main Room is beautiful, the front tables in the side room are more intimate and offer romantic views of the street and the Commons beyond.
Begin your evening with a cocktail at the bar, because Ms. Lynch has taken as much care in assembling a drink menu as she has for her food. The signature drink, Palmyra, is a delightful concoction of Rain vodka (made in Kentucky from white corn), mint simple syrup and fresh squeezed lime juice.
Chef Lynch is renowned for her pastas, having learned technique directly from women in Italy, so the choice for a first course was easy, a Shrimp Tortellini with fava beans, green garlic and spiced pistachio. A wonderful Grilled Swordfish was  prepared with tarragon cream, porcini mushroom and pickled cherry. For dessert the Banana Bread Soufflé with milk chocolate and crème anglaise was fantastic.
This is how Cat Silirie, Wine Director of No. 9 describes her wine list, "Our wine list features wines of France and of Italy and represents only the most interesting American wines from small producers. There is also a small selection dedicated to the wines of Austria and Germany. The process of selecting these wines is very personal, representing not the standard categories, but rather a collection of wines from the direct experience of myself and our staff." I found the staff to be very knowledgeable (I usually ask for a red or white suggestion under $50), the selections interesting and the pricing very reasonable.
ROMANTIC QUOTIETNT: Very high, this is a sexy and sophisticated restaurant equally good for a special occasion or just a fun night out.
WHAT OTHERS SAY…
AAA Four Diamond Award
Forbes Four Star Award
Barbara Lynch deserves sainthood for her consistently great Beacon Hill classic, a stellar French-Italian destination where each elegant dish is beautifully presented and served with style and grace in fancy but comfortable surrounds; though tabs are expensive, you get what you pay for all substance, not flash. ZAGAT