Menton is that rare opportunity to experience the culinary mastery of one of America's best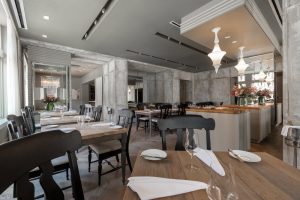 chefs in Barbara Lynch and the brilliance of its Wine Director, Cat Silirie.
Lynch is a James Beard Award winner, has won the coveted AAA Five Diamond award and Forbes Five Star award for Menton. The Boston Globe gave the restaurant 4 stars and Lynch is currently the only female in the United States to hold the distinguished title of Grand Chef Relais & Châteaux.
Silirie, recognized by The New York Times' Kay Rentschler as "Boston's pre-eminent sommelier", and by Bon Appetit as "one of the country's best sommeliers." oversees the wine program for all the Lynch restaurants. She received the James Beard Foundation Award for "Best Wine Program" at No. 9 Park.
We are big fans of two of Lynch's other restaurants No. 9 Park and B&G Oysters and Menton is
just one further feather in her culinary cap.
A six-seat bar, with additional seating for ten at tables along a banquette, features wines by the glass and craft cocktails. Wine selection includes a section of  "rare and discovery" wines like a 2015 Dauvissat-Camus Chablis Grand Cru "Les Clos". An opportunity to try some great wine by the glass.
Menus include an A La Carte Menu and a "Chef's Whim" Menu. The menu changes throughout the year, but recent offerings included Seared Foie Gras, apple, cinnamon cap mushroom and slow roasted fig; King Crab, bergamot, cauliflower and shiso; Duck Breast, rhubarb, muscat grapes and swiss chard; Ricotta Cheesecake, thyme, kumquat and Meyer lemon sherbet. The artistry of the presentation and the precision in which it is served enhance an already wonderful experience.
The wine list is carefully thought out with an ample representation of old world wines from France, Italy, and Austria, but also a selection of beautiful American wines from small growers. You will find wonderful wines on this list of which you have never heard,
ROMANTIC QUOTIENT: High. This is a place for romance, to wine and dine, to enjoy the good life.
WHAT OTHERS SAY…
AAA Five Diamond Award
Forbes Five Star Dining
4 Stars Boston Globe
Relais & Chateau member
Grand Chef Relais & Châteaux – only female in U.S
"The theater of a perfectly crafted restaurant unfolds" at Barbara Lynch's "fabulous" French-Italian in the Seaport District's Fort Point, thanks to an "impeccable" team that "accommodates individual preferences" and provides an "educational experience" throughout each course; the "over-the-top" experience in the "romantic", "formal" space is a "wallet emptier", but it's "worth the obscene amount" to be treated like "an oligarch for the night." ZAGAT