Picture white tablecloths, candlelight, tiny lights sparkling in the trees, the soft rush of the water hitting the dock and maybe a full moon and you begin to understand the lure of this perennial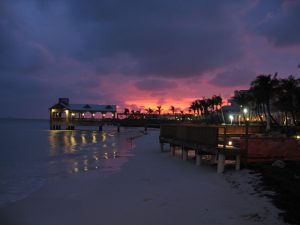 outdoor favorite. There is no more romantic setting in Key West. Ask just about anyone and they will tell you that Louie's is the place to go for a wonderful and romantic dinner.
If ambiance was all it had to offer, it would be worth the trip, but the food is just as exceptional. The menu changes often, but the opportunity for taste sensations remains constant. Last visit I started with whitewater clams steamed with bacon, potatoes, bell peppers and cream as an appetizer and followed that with a salad of Boston lettuce and watercress with Maytag blue cheese, apples and spiced pecans. Imagine all the flavors. My entrée was a delectable veal loin gently sautéed with a parmesan cream, arugula and Jerusalem artichokes. Again, the mix of taste and texture is quite wonderful.
I eschewed dessert on this trip but did have an opportunity to taste the chocolate brownie crème brulee, their own recipe, and it was as wonderfully decadent as it sounded.
The wine list is well stocked with choices from all the major wine areas with a French emphasis. About a dozen are available by the glass and there is a limited selection of 1/2 bottles. Pricing tends to be on the high side.
Make two requests with your reservation; Table #38, a private spot for two along the water and Tommy as your waiter. He's been there 18 years, is very knowledgeable and great fun.
ROMANTIC QUOTIENT: High
WHAT OTHERS SAY…
It doesn't get any better than the sea, the sun, the food at this classy, romantic longtime winner in Key West, voted Most Popular in the Keys for its magnificent ocean view, superb Caribbean-American cuisine and informed service; dinner can be a wallet-bust and a few cite snooty treatment, but to its legion of champions there's just no other place like it; P.S. make reservations well in advance.- ZAGAT