If ever there was a "go-to" restaurant in Washington it is Le Diplomate, a charming French bistro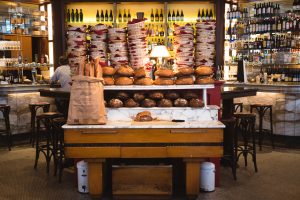 that has no pretension and is the toughest reservation in town. It is perfect for an after work drink, a mid-week supper, a weekend brunch or a romantic evening for two on the weekend.
The difference between Le Diplomate and other like French bistros is that their classic dishes are prepared so well and are served by a staff that clearly relishes their job. They are pleasant, helpful and knowledgeable about the menu and the wine.
Here's some menu highlights; Onion Soup Gratinee, caramelized onion, crouton, gruyère; Moules Frites, marinière style mussels, pommes frites, sauce mayonnaise; Escargot a la Bourguignonne, parsley-garlic butter, demi-baguette; Half Roast Chicken, rosemary, pommes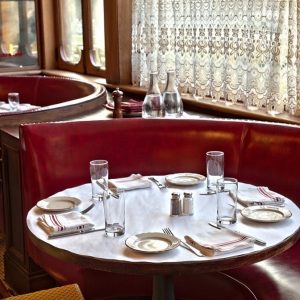 purée, jus de poulet; Trout amandine, ROUT AMANDINE, toasted almonds, haricots verts, lemon brown butter; Steak Frites, herb roasted, maître d'butter, pommes frites; Vanilla Bean Creme Brulee, warm madeleine.
The wine list is a three year winner of Wine Spectator's Best of Award of Excellence. The cellar has some 350 choices and nearly 5,000 bottles. leaning heavily French, it is nonetheless, modestly priced.
ROMANTIC QUOTIENT
Despite the high volumes, this is a sexy restaurant and if you are sitting outside on a balmy night, drinking good wine, you just may pop the question.
WHAT OTHERS SAY…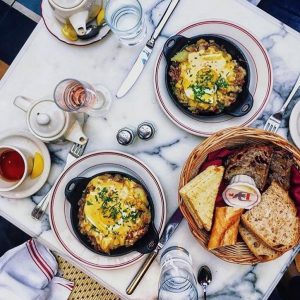 Maybe the "hottest address in town – after 1600 Pennsylvania Avenue of course" – this French brasserie on the 14th Street Corridor transports diners with a "classic" menu, "adept", "no-attitude'" service and a "beautiful", camera-ready setting; although this "winner" may be a victim of its own success (i.e. the "loud" acoustics, "teeming bar scene" and the need to "reserve early"), most "thoroughly enjoy" every visit – the flavors alone will "make you want to come back." ZAGAT