High Cotton gets my vote as the best overall restaurant in Charleston. They serve a delicious lunch/brunch on the weekends, have a excellent wine list (Wine Spectator Award of Excellence),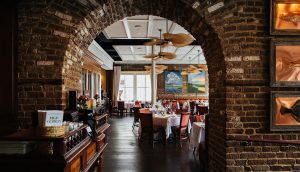 a beautiful mahogany bar (where they serve a killer Bloody Mary and Bloody Bull with Low Country Spice Rub on the glass rim) and outstanding comfort and Southern style cooking served in two elegant rooms. Top all that with live jazz every night and at Sunday brunch and you can see why it's a favorite with locals and tourists.
The menu changes often, but these are some of the things we have enjoyed; Lobster bisque with huge chunks of meat and scallions and a blue crab butter bean soup with sausage, yellow squash and cornmeal crumb topping. A simple Iceberg lettuce salad was made spectacular with blackened bacon, fried green tomatoes and a buttermilk blue cheese dressing.
Pan roasted Carolina trout with a lump crab and spinach casserole, roma tomato confit and a sweet corn vinaigrette was wonderful. For game lovers there's venison, quail and duck and the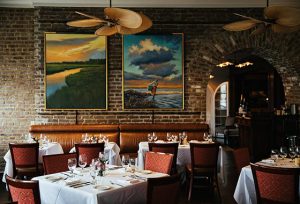 Black Angus steaks come with your choice of Henry Bain steak sauce, peppercorn garlic butter, truffle blue cheese, béarnaise, red wine reduction and bourbon bacon sauce. Don't miss the Vidalia, bacon creamed sweet peas as a side dish.
Lots of interesting desserts including a cheese course, but the Charleston Praline Souffle with chocolate sauce isn't something you will soon forget.
There nearly 20 wines by the glass, priced $6-$16. These wines are also available by the bottle. Particularly noteworthy is the Darioush Cab@$16 and the Ridge "Three Valleys" Zin at $10. The rest of the list is interesting and very fairly priced. There's also some real values like an $88 Puligny Montrachet and a $180 Silver Oak. Even the Reserve List, which has some great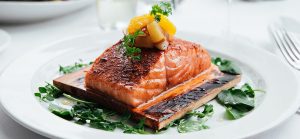 selections, is very reasonably priced.
ROMANTIC QUOTIENT: Medium. Ask for table #14 in the window and for waitress Amy Frye if she's still there. She's traveled the world and ended up in Charleston. An interesting story.
WHAT OTHERS SAY: A "first-rate" Low country "favorite", this "elegant" French Quarter mainstay supplies "generous portions" of "excellent" Southern fare sourced from "local ingredients" with a side of "charm and seamless service"; "amazing" cocktails and a "well-rounded wine selection" help keep things "vibrant" (or "noisy", depending), and with regular live music and a "don't-miss" Sunday jazz brunch, it's no surprise fans feel "prices on the high side" are "worth it." ZAGAT