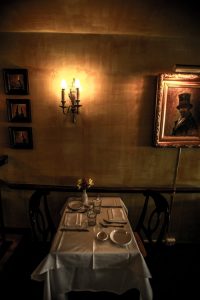 Ask the locals where their favorite place to eat is and more often than not, the answer will be Fulton Five. Hidden away on a small street off of King, this charming ivy covered trattoria has a big reputation for food, but remains casual and welcoming.
There are only about 15 tables and a small 5 stool bar, but the dark walls, Tuscan art, wall sconces and a sunken dining room make for a very intimate setting. Everyone seems to feel they've found Charleston's best kept secret.
I started my meal with a wonderful pumpkin ravioli cooked with pancetta and sage in a brown butter sauce with pine nuts and shaved Parmesan. I could have eaten two servings it was so delicious. For my entrée I chose the Osso Buco, marinated and slow cooked veal shank that literally fell off the bone. It was accompanied by whipped Yukon Gold potatoes, oven roasted carrots and a saffron-tomato reduction.
The one page wine list is heavily Italian and mostly the in the $40 range. Premium Italian reds were very fairly priced with a delicious Amarone at $75 and a Super Tuscan at $40.
ROMANTIC QUOTIENT: High on the upstairs terrace.
WHAT OTHERS SAY…
For "exceptional Italian cuisine" that's both "innovative and classical", locals head to this "upscale" King St. Historic District mainstay with an "amazing" wine list and desserts that "will not disappoint"; the "courteous" servers work the "intimate" dining room (reservations recommended) that's "romantic" but "comfortable." ZAGAT