Housed in a dramatic turn of the century Greek Revival mansion, Elizabeth on 37th, is the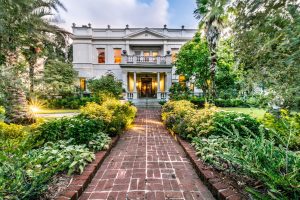 brainchild of Chef Elizabeth Terry with a focus on regional cooking using traditional recipes and making use of local seafood and produce. Decorated with antiques and historic (dark) colors, the dining rooms have fireplaces and are festooned with fresh bouquets of flowers and the tables are set with gleaming crystal, china and silver.
Our meal began with some delicious and warm cheese drop biscuits served with a homemade orange marmalade. A mozzarella and tomato salad was served warm with balsamic and truffle oil and a green salad came with refreshing watermelon slices and goat cheese. A very interesting combination.
A delicate grouper entrée was sesame and almond crusted and served with a tangy peanut sauce and a pork tenderloin was juicy and tender and marinated in orange and ginger. We shared a serving of Elizabeth's wonderful pecan almond tart, the recipe for which is on her web-site. This is one dessert you don't want to miss.
The service was excellent has been consistently voted the best in Savannah.
The wine cellar holds some 10,000 bottles with about 250 selections. The wine list is very complete and organized (I like this) by taste; Dry Smooth, Full Bodied, Crisp & Dry, Dry with a Hint of Fruit. Pricing in the $40-$90 is very fair with some good values.
ROMANTIC QUOTIENT: High. Ask for the table for two in the front dining room at the window.
WHAT OTHERS SAY…
Fans agree that Elizabeth Terry's "impeccable" Southern American set in a circa-1900 Thomas Square mansion is "the gold standard" for Savannah dining, capturing the "essence" of the city for "locals and tourists alike"; few grumble at the "pricey" tabs, touting the "fresh Lowcountry take on classic dishes", "outstanding" service and "million-dollar" wine cellar as "worth every penny." ZAGAT