"Dramatic" only begins to describe 2941, a remarkable restaurant located in an unlikely spot, an office park, in Falls Church, Virginia. Picture palettes of rich blues, golds and browns, floor to ceiling windows, 30 ft. ceilings, soaring columns, fireplaces and views of a lake and waterfall. The walls are faux finished and topped with wood paneling and huge slanted mirrors give you a peak at everyone around you. Quite extraordinary.
Be sure to leave some time before dinner for a cocktail. The bar, set to the far left of the dining room, looks out onto a beautiful waterfall and pool. Have one of their specialty martinis and prepare yourself for an amazing evening.
We sat in one of the booths set on a raised platform with a great view of the rest of the dining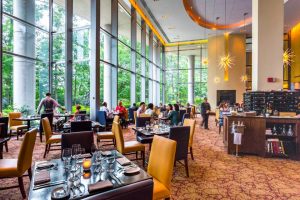 room and the lake beyond. Our server was smartly dressed in all black; suit, shirt and tie and the service was impeccable.
The setting would be worth the trip alone, but the food is more than a match for the beautiful surroundings. First taste of what is to come is the basket of homemade bread (baked twice daily). Served with sweet butter, these delicious breads include 10 choices with items like garlic and chive, olive rosemary, golden raisin pine nut and more. We started with a blue crab risotto, set in lobster broth with a lemon verbana sauce and the most wonderful and rich roasted wild mushroom soup served with aged sherry. My entree was a spiced Millbrook venison loin with roasted porcinis, sage spaetzle and blackberry vinegar. Jen enjoyed a roasted Japanese sea bass with caramelized shallots and a lobster red wine sauce.
A delightful cheese course (4 types) with more homemade bread and fruit ended a very memorable meal.
The wine list is quite extensive with some outstanding selections. Sadly, there are few wines under $50 and most are over $100
ROMANTIC QUOTIENT: Amazing views, fireplaces and soaring ceilings make this a very romantic place.
WHAT OTHERS SAY:
AAA Four Diamond Award
Finding this "entrancing" oasis in a Falls Church office park may give your GPS a "good workout", but the payoff is "creative, beautifully presented" French-American fare served in a "gorgeous" room equipped with a fireplace, high ceilings and huge windows overlooking a lake; it works for everything from a business lunch to a "romantic" rendezvous and is considered "one of the top restaurants in the area." ZAGAT