A.R. Valentien was a talented 20th century California artist and is the namesake for the signature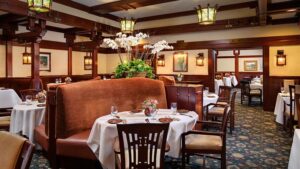 restaurant at the Lodge at Torrey Pines in La Jolla. Many of the artist's works are displayed throughout the restaurant. Serving regional San Diego cuisine, the timbered and elegant restaurant features both indoor and patio dining with views of the 18th green and the Pacific beyond. The restaurant itself is a tribute to Southern California heritage and craftsman architecture, with a metal-strap post-and-beam structure, handcrafted wood-framed windows, stained-glass lanterns and a frieze painted with pine boughs.
Jeff Jackson runs the kitchen and was an early proponent of the farm-to-table movement, although he hates that phrase because it is so overused. He attended the Culinary School of America and trained under Jean Banchet at Le Francais in Chicago, considered by many to be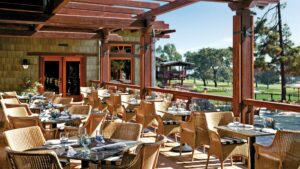 one of America's greatest chefs.
Here's some menu highlights: Carmelized Onion and Potato Knish, Shaved Brussels Sprout Salad, Cranberry, Mustard Vinaigrette; Salt Spring Island Mussels, Green Farro, Dill, Shallot, Garlic, White Wine, Cream, Charred Pain au Levain; Crispy Skin Sablefish, Bok Choy, Turnip, Seaweed Broth, Asian Pear and Cashew Relish; Chimney Roasted Brisket, Butternut Squash Kugel, Braised Escarole, Pomegranate and Orange Relish; Root Vegetable Tarte Tatin, Stone Ground Mustard, Cider Vinegar, Puff Pastry, Heirloom Carrot and Frisée Salad; Red Wine Poached Pear, Almond Shortbread, Pomegranate, Lemon, Burnt Honey Ice Cream; Doughnut Bread Pudding, Raspberry Preserves, Lemon Crème Anglaise, White Chocolate, Pistachio
WHAT OTHERS SAY…
Award of Excellence – Wine Spectator
AAA Four Diamond Award