Scarcely a week goes by, particularly in season, without a mention of 75 Main in Page Six of the New York Post. A celebrity sighting, maybe there was a photo shoot, or perhaps someone got overserved. Whatever the reason, 75 Main is a popular spot with locals and tourists alike.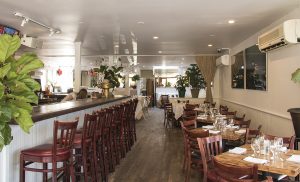 I like it because it is laid back, it is open year round, you can sit outside in nice weather, the food is outstanding and you can get lunch/brunch or dinner. Surprisingly, for a Hamptons restaurant, the pricing is very reasonable.
The kitchen is helmed by James Beard Award winning chef Mark Militello, who, a few years back, was named one of the "10 Best Chefs in America" by Food & Wine Magazine.
At Lunch/Brunch enjoy items like The Famous Brown Derby Cobb Salad, grilled chicken, tomatoes, avocado, smoked bacon, gorgonzola, black olives, hard boiled eggs;  Mezze Rigatoni Bolognese, ragu of beef, veal, pork with brocollini; Traditional Maine Lobster Roll, toasted pull apart bun; and Black Bean Corn & Quinoa Burger, quinoa, black beans, corn, cilantro, rolled oats, eggs, red onions, tomato paste.
It is the dinner menu, however, that really shines. The Shrimp Scampi is the best I ever had, made with garlic, tomatoes, olives, capers and feta over grilled bread. Our pasta course was an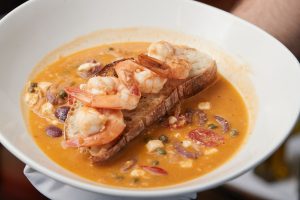 amazing Ricotta Pillows, with porcini cream, black truffles and Telaggio cheese.
Our entrees were a Grilled Long Island Swordfish with a mango BBQ sauce, black beans, sweet plaintain and a rum avocado puree. and a Roasted Branzino stuffed with lemon and fresh herbs, caponata, toasted garlic and lemon mayonnaise.
Good wine list with interesting Old and New Wold choices and fairly priced.
Weekend entertainment in the Lounge, in season.
ROMANTIC QUOTIENT
Inside can be loud, but outside can be intimate and romantic.
WHAT OTHERS SAY…
A relaxed dining room and, in the summer, a fun, nightlife feel coexist at 75 Main. In fair weather, the restaurant offers outdoor tables where diners can people-watch on the venue's namesake street. GAYOT