OVERVIEW of the Williamsburg Inn
The Inn was conceived and built by John D. Rockefeller Jr. in 1937. whose vision for a luxurious
guest experience lives on today at this remarkable property. Rockefeller and his wife were involved in every aspect of the design and traveled throughout England in search of furnishings. They even had a "sample" guest room built so they could visualize the décor. The attention to detail and the desire to preserve historical authenticity is quite extraordinary. It is evident in grand gestures like replicating original wallpapers down to a guest services directory that resembles a period scrapbook in a raw silk fabric binder.
A meticulous renovation in 2001 brought together historians, architects and craftsman to restore an authenticity to the Inn. Ceilings were hand plastered, historical paint colors were selected and guest rooms were hand brushed to replicate original painting techniques.
Colorful gardens frame the driveway and lawns as you approach the stately white colonial building with porticos reminiscent of the White House. Your car is met by uniformed bellman and you are whisked to reception which is quick and efficient. Star Gazer lilies scent the air in public rooms that are elegantly appointed with 19th century Regency style furniture and accessories. A number of cozy sitting rooms provide ideal spots for curling up with a book with views out over the gardens or golf course. Brick paths meander between buildings and through lush gardens and are set with benches and sitting areas….perfect for thoughtful contemplation or reading a good book.
THE ROOMS at the Williamsburg Inn
Guest rooms average a generous 500-square-feet and floor to ceiling windows look out onto gardens, the golf course or Historic Area. They are decorated with 19th century English Regency style furnishings, original artwork (some wonderful oils in ornate gold frames) and handmade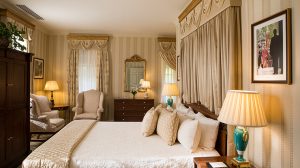 silk window treatments. Couches and chairs are upholstered in silk damask and beds are covered in luxury linens and spreads.
Marble bathrooms are oversized and feature twin vanities, marble soaking tubs and marble showers. The towels and robes are plump and soft, the shower wonderfully powerful and The Spa toiletries refreshing and aromatic.
DINING at the Williamsburg Inn
The Rockefeller Room is a fine dining venue in the elegant Southern tradition with influences from the 18th century British Empire. The spacious dining room is elegantly decorated and tables are set crisp, heavy silver tableware, small shaded lamps with silver bases and hand painted plates. Service by white jacketed waiters was perfectly paced and flawless.
The menu changes often, but on this night I enjoyed a delicious shrimp amuse bouche, a kind of chopped and stuffed chicken with spinach and pumpkin ravioli, and a duck breast with a cherry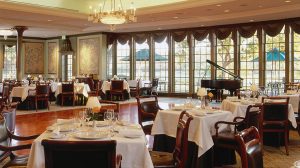 sauce and scallion potatoes. Paired with a wonderful half bottle of Fess Parker Syrah, this was a deliciously satisfying meal.
This is a good wine list, if a little pricey. The very good sommelier will help you find the value items. Try the Virginia wines, some are excellent. The half bottle list is exceptional.
Other dining options include the seasonal Social Terrace, a charming outdoor space serving shareable plates, flatbreads, entrées, and desserts. Great outside bar. The Terrace and Goodwin Rooms are more casual venues serving American classics. Goodwin serves breakfast and brunch, The Terrace lunch and dinner.
THE SERVICE at the Williamsburg Inn
The gracious, old world hospitality reminded me very much of The Greenbrier, the standard for southern charm and sophistication. There is a kind of gentility to places like this that is hard to replicate. The staff is friendly without being familiar, helpful without being solicitous, discreet without being formal. Thoughtful touches like porcelain dishes in bathrooms, a single rose on the sink, a rose on your breakfast tray illustrate the attention to detail.
THE RATES at the Williamsburg Inn
From $642 Peak Season Weekend
WHAT OTHERS SAY About the Williamsburg Inn
AAA Five Diamond Award – Lodging
Forbes Five Star Award – Lodging
"Do Williamsburg right" at this "elegant" inn "in the center of it all" where the rooms are so "comfortable and luxurious" that "even a Rockefeller would feel at home" (he built the place in 1937); there's a "beautiful new gym", golf, mint juleps and a "pleasing" (if "out of the '50s") dining room; as for the service, "every staff member addresses you by name." ZAGAT
PROMOTIONS at the Williamsburg Inn
Click here for this property's promotions.