OVERVIEW of the Fearrington House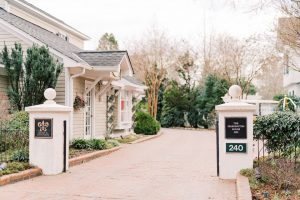 For over 200 years the Fearrington property, located in the beautiful countryside between Pittsboro and Chapel Hill in North Carolina was a working farm, passing from generation to generation until it was purchased by RB and Jenny Fitch in 1974. Today, the property includes homes, specialty shops and a market along with the Inn and restaurant.
The original Fearrington home is now the restaurant and the magnificent inn has 32 individually decorated rooms and suites set in and around a stunning array of gardens and bucolic pastures with grazing Belted Galloway cows.
Fearrington House, is a perfect example of the very high standards set by the Relais & Chateau organization of which they are a member.The grounds are immaculately kept, the buildings in perfect condition and the overall experience exemplary.
The views of the rolling countryside are beautiful and the Inn employs 7 full time gardeners to tend the magnificent English gardens, the Knot garden and the White Garden (all white flowers and shrubbery).
Should you decide to partake in things other than just relaxing there's lots to do on and around the property. The delightful college town of Chapel Hill is right down the road (ACC fans, this is college basketball heaven) and Fearrington itself has become a major stop on the book tour circuit providing a great opportunity to hear and meet top authors
THE ROOMS at the Fearrington House
All of the rooms are oversized and are each decorated in a slightly different style and color scheme. What are consistent are the English antiques, original artwork and luxurious fabrics. Canopied beds covered in plush featherbeds and butter soft linens sit on bleached wide plank pine floors covered in area rugs. A local designer puts it all together with help from the GM who, I am told, has a great sense of style and color as well. Many rooms have wonderful views of the pastures or gardens.
Our two room suite had a bedroom and a separate sitting room. There were two flat screen TV's, a fireplace, beautiful antiques and artwork and wonderfully soothing colors. The canopied plump pillow top bed was covered in luxury linens and oh, so comfortable.
Of all the places we have visited, this has the ultimate "Hall of Fame" shower one you could stand under forever! And it's like that in all the rooms. Add heated floors and a heated towel rack, big, fluffy towels and Molton Brown toiletries and you may never want to leave.
DINING at the Fearrington House
The property offers three places for meals and/or food. The Belted Goat is the place for a casual
or quick breakfast or lunch and has a great selection of sandwiches and salads for a picnic. You can also pick up a bottle of wine for your room and there are some excellent choices at very reasonable prices. The Roost Beer Garden is open Thursday through Sunday with a wonderful beer and wine selection, wood fired pizzas and live music.
Dinner, however, is the main event at the Fearrington House and one not to miss. Colin Bedford heads a stellar team and draws on his experience at Michelin restaurants in England and Canada. It's a dream job where he gets to grow his own herbs and vegetables and has the freedom to realize his vision. The Fearrington House has been awarded AAA Five Diamond status and Chef Bedford was named a Grand Chef by Relais & Châteaux, the international culinary world's highest honor.
The restaurant, which was the former Fearrington home, is divided into three intimate dining rooms and a bar. Two of the rooms look out large paned windows onto the lush gardens. The lighting is soft, the walls a soothing gold framed by flowered draperies. As with the rooms, the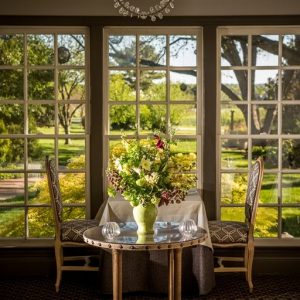 restaurant is decorated with interesting antiques and local art. Tables are classically set with white linens adorned with fresh flowers in small silver vases and candles in cut glass Waterford globes.
The menus change often, but here's some highlights of a recent Tasting Menu that illustrates the creativity and innovation of the restaurant: Hudson Valley Foie Gras with Strawberry, Black Truffle, Celery Root, Green Almond; Black Truffle Agnolotti with Walnuts
Rainer Cherry, Celeriac, Madeira; Pheasant with Morels, English Peas, Mustard, Prosciutto, Basil; Maine Lobster with Butternut Squash
Sherry, Sage, Celery; Robiola Bosina
Cranberry, Benne, Juniper; Vacherin with Spiced Apples
Maple, Quatre Epices, Parkin; Valrhona Cœur de Guanaja Chocolate Soufflé
Dark Chocolate, Vanilla, Whipped Cream
The wine list has been recognized for its excellence by the Wine Spectator and is notable for its depth, unusual offerings and very fair pricing. Such a nice departure from many fine restaurants who feel compelled to gouge diners with their wine list.
Other examples of their attention to detail; the temperature in the Wine Room is kept quite cool, so they have Pashminas available for the women in multiple colors. If you forget your glasses, they have plenty, again in numerous colors.
THE SERVICE at the Fearrington House
From the time you arrive in your car, until you drive away with a special gift and bottles of water for the road, you want for nothing. What the staff does not anticipate, is yours just for the asking and always with a smile and a genuine desire to be helpful.
When we returned from dinner the room was as if we had never been there; fresh towels, clothing organized and basins wiped clean. Our bed was turned down, pillows fluffed, bottled water set out, slippers put by both sides of the bed and a note with the next day's weather was on the pillow. Best of all was a small decanter of port and two glasses with delicious homemade chocolates to enjoy before retiring.

We were dining one evening with my wife's cousin, so I asked our server to have a cheese plate sent over to our suite to go with a bottle of wine I purchased that afternoon at the Belted Goat. When we arrived in the room, 3 glasses were set out with napkins and silverware on the coffee table in the living room. The wine was in an ice bucket and a wonderful cheese course was waiting to be enjoyed. As I always say, the difference between good and great is in the details.
THE RATES at the Fearrington House
From $440 Peak Season Weekend
WHAT OTHERS SAY About the Fearrington House
AAA Five Diamond Award -Lodging
AAA Five Diamond Award – Dining
Forbes Four Star Award – Lodging
Forbes Four Star Award – Dining
Wine Spectator Award Winning List
"This "quaint and quirky" Relais & Chateau "country escape", set about 8 miles south of Chapel Hill, "could convince even the most hard core urbanite to move to the farm"- a "luxurious" one, as the rooms are "commodious", the restaurant "exceptional" and the staff "eclectic and interesting", so "plan to spend several days relaxing" on the romantic "beautiful" grounds that are "perfect" for long walks. ZAGAT
PROMOTIONS at the Fearrington House
Click here for this property's promotions.