OVERVIEW of Triple Creek Ranch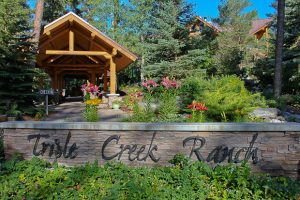 You're not at Triple Creek Ranch long before you notice the breeze whispering through the Ponderosas, the water rushing down the creek and the soft whinny of the horses in the stable. A kind of serenity descends upon you before you even notice it. While your days can be as active as you want, nights are for relaxing, marveling at the brilliant stars, enjoying good food and wine and maybe even a good soak in the hot tub.
The Main Lodge consists of three levels, the front desk and library on the lowest level, then the dining room on the second and at the top the bar and wine "cellar". The Lodge displays the Barrett's (the owners) private art collection, stunning examples of Western art and landscape.
THE ROOMS at Triple Creek Ranch
Guests are housed in spacious log cabins decorated in a Western motif with colorful local artwork. Each has both a sleeping and sitting area. The look is rustic, yet elegant. Some might say it's "Ralph Lauren inspired" Pillow top beds are 4 posters made of logs and covered in luxury linens and down pillows. Floors are carpeted and set with Persian rugs. White leather furniture provides an interesting contrast to logs and the bright colors of the blankets, pillows
and artwork. Each cabin has a deck with awe inspiring views of the mountains and many have a private hot tub. Except for two cabins, all are situated creek side. All cabins have a wood burning fireplace, air conditioning, a fully stocked wet bar with soft drinks and complimentary spirits, coffee beans and grinder, a selection of teas, freshly baked cookies and homemade trail mix.
We stayed in a Luxury Cabin and absolutely loved it. Oversized with a separate sitting room, beautiful views, a double steam shower and his and her bathrooms. The outside deck is huge and has a private hot tub and you get a golf cart to get around the property. It doesn't get much better than this!
DINING at Triple Creek Ranch
Any meal can be enjoyed in the Main Dining Room, on the outside deck, weather permitting, or in the privacy of your cabin. We had a great lunch on the deck, dinner in the Dining Room and breakfast in bed in our cabin.
Breakfast-If you can imagine it, they can make it. Omelets to order, any kind of eggs, a French Toast and a pancake special every day. Try the Denver Skillet; Cherry Apple Farms ham,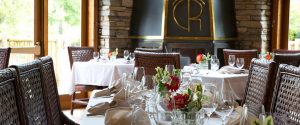 peppers, onions, cheddar cheese, eggs and hash browns. Freshly squeezed juices, a wonderful selection of teas and delicious coffee. Add ever amazing views and you ve got a great way to start the day.
Lunch-Served in the Dining Room, the deck, your cabin or the chef will prepare a scrumptious lunch to take on one of your adventures. Any kind of sandwich on any kind of bread. Terrific salads and burgers. We had a wonderful salad topped with fig and proscuitto, served with goat cheese and macadamia nuts and a champagne vinaigrette and a mouth watering buffalo prime rib sandwich.
Dinner-Crisp linens, sparkling china and silverware, a purple sky , perhaps a roaring fire makes for an elegant and romantic evening. As you might expect, you ll find some type or types of game on the menu; antelope, elk, buffalo and some locally caught fish, usually trout. We started with a delicious duck sausage served over lentils and then we both had the buffalo tenderloin with haricots and a tasty mushroom risotto. Dessert was chocolate dipped coconut ice cream served with a banana sautéed in brandy. The homemade ice creams (huckleberry, lavender, saffron) and sorbets (Litchi, papaya, marion berry) are amazing and there is also a fabulous
cheese course.
House wines, which are very good, are included in the room rate, but the regular wine list offers some wonderful selections and all the major regions are represented. Prices are more than fair with lots of reasonable choices.
After Dinner-head upstairs to the lounge and wine cellar, settle into one of the leather chairs and enjoy a glass of vintage port. The end of a wonderful day.
THE SERVICE at Triple Creek Ranch
From the minute we arrived, to a little sign with two raccoons welcoming us, to the time we left, with a framed picture of us on horseback, we wanted for nothing. The staff knew our names upon arrival, took us on a tour and inquired whether we were hungry or thirsty. Our one meal

in our cabin was delivered promptly and hot. Everywhere we went at whatever time, our golf cart was waiting for us, turned around so we didn't have to back up and make a turn. The Ranch understands that in this remote destination, they'll only get one chance at getting you back and they make the most of it. The staff and management are genuinely nice and concerned about your well being.
THE RATES at Triple Creek Ranch
From $995 Peak Season Weekend. Includes all meals, picnic lunches, snacks, house wines and cocktails, downhill and cross country skiing, snowshoeing and fly casting lessons.
WHAT OTHERS SAY at Triple Creek Ranch
Forbes Four Star Lodging
Member Relais & Chateau
Wine Spectator Award Winning List
"Everyone should be lucky enough to go just once" to this "romantic" Relais & Chateau resort (78 miles south of Missoula) that delivers "way beyond expectations"; the staff "gives pampering a new name", while "terrific" cabins, "amazing" restaurant (a "tidal wave of taste") and "spectacular" vistas of the Bitterroot Mountains make you "pinch yourself for a reality check" and "think about it every day" after you leave". ZAGAT