OVERVIEW of Ritz Carlton New Orleans
It is hard to match the elegance of the Ritz Carlton in New Orleans. Located on the edge of the French Quarter it is close to most everything and a wonderful base for exploring the city. The gorgeous lobby opens onto a stunning courtyard filled with trees, bushes and colorful flowers. It is a great place for coffee or breakfast during the day, but street lamps and live music turn it magical in the evening.
THE ROOMS at Ritz Carlton New Orleans
Guest rooms start at a generous 350 square feet and are decorated in a style borrowed from
the antebellum Garden District mansions. Rich fabrics join period antiques to create a sense of style and grace. Luxury linens and duvets cover feather beds and oversized marble baths are stocked with huge towels and exquisite toiletries. Many rooms come with an additional sitting room and all have great views of the City.
DINING at Ritz Carlton New Orleans
The hotel's signature restaurant M Bistro, serves all meals and the cuisine is native New Orleans with a French influence. Here's some dinner highlights; for starters, fried green tomatoes with a roasted red pepper aioli and a watermelon radish, sweet corn ravioli with a crawfish and andouille ragout and corn emulsion, grilled asparagus and prosciutto salad with grilled peaches and shaved manchego. For entrees; blackened red fish with dirty rice, black eyed peas fried okra and tomato gravy and Southern roasted chicken with red beans and rice, braised collard greens and gravy. For dessert the classic crème brulee and the bananas foster were fantastic.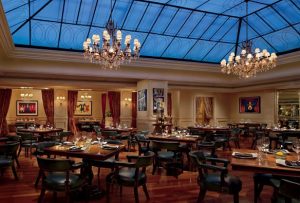 Ask for one of the "cheaters booths", private and intimate spaces for well, "cheaters", who don't want to be seen.
The wine list has many interesting choices and is very well thought out. Prices are very reasonable for a major hotel with plenty of options under $75.
THE SPA at Ritz Carlton New Orleans
The 22,000 square foot spa has 22 treatment rooms, a café, a fitness center and over 100 different therapies. In 2011 the Spa was selected as the Top Hotel Spa in the U.S. and Canada by Travel + Leisure magazine.
THE RATES at Ritz Carlton New Orleans
From $323 Peak Season Weekend
WHAT OTHERS SAY About Ritz Carlton New Orleans
AAA Four Diamond Award Lodging
Forbes Four Star Award – Lodging
Forbes Four Star Award – and Spa
"The little touches really add up at this ultra-luxe French Quarter hotel deemed better than ever after a gorgeous renovation that's resulted in flawless rooms, de-lish food and amazing facilities like a fantastic spa and lively courtyard complete with parrot; though a few picky patrons cite post-Katrina issues (the staff is still learning), most say extras like the amazing piano bar entertainment are icing on the cake." ZAGAT
PROMOTIONS at Ritz Carlton New Orleans
Click here for this property's promotions.