OVERVIEW of Sofitel Hotel
Sofitel Hotels are a favorite of ours and are recommended in our New York, Washington, DC and LA profiles. As I have said before you get a 4 star experience at a 3 star price. Their weekend rates are amazingly reasonable given the style and ambiance you enjoy.
The Chicago hotel is no exception, although its decor, while sleek and stylish, is a little more modern and avant-garde than others we have seen. The location, however, can't be beat. It's just steps from the Miracle Mile, Michigan Avenue, the Museum of Contemporary Art and the Art Institute.
THE ROOMS at Sofitel Hotel
The European staff is friendly and efficient and there is an air of sophistication upon check-in. The 415 rooms and 33 suites are oversized by city standards and are comfortable and well-appointed. Pump pillow top beds with luxury linens and down comforters are a trademark and make for a wonderful night's sleep. Blue patterned draperies and oak paneling add a lightness to the room and blue carpets, chrome furniture trim and colorful artwork introduce
color and style. Huge windows provide a wonderful view of the City.
Marble bathrooms are spacious and have a separate glass shower and soaking tub. Equipped with thick, fluffy towels and robes, high quality toiletries and perhaps a fresh flower or two, these bathrooms are everything you would want in a city hotel.
DINING at Sofitel Hotel
The trendy and modern Le Bar is a popular watering hole with a great wine, Champagne and martini menu. This bar stays full well into the night. The hotel's restaurant, Cafe des Architectes,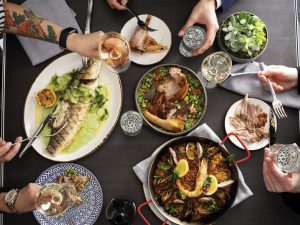 serves good French bistro food for breakfast, lunch and dinner. When the weather cooperates the outdoor terrace is delightful.
THE RATES at Sofitel Hotel
From $422 Peak Season Weekend
WHAT OTHERS SAY About Sofitel Hotel
AAA Four Diamonds Award
"Contemporary luxury with a European feel lurks in the heart of the Gold Coast at this smart, sophisticated scene of beautiful, futuristic furnishings, fresh flowers throughout, gorgeous suites and airy rooms with real character (and magnificent beds); factor in French cooking at the Café des Architectes some go here to eat even when staying elsewhere and cordial service, and vets vote it a good value for the business traveler if you don't need a pool and spa." – ZAGAT
PROMOTIONS at Sofitel Hotel
Click here for this property's promotions.