OVERVIEW of Ritz Carlton, Naples

Two things I truly enjoy on vacation are a beach on which to take long walks and beautiful sunsets. The gorgeous Ritz Carlton in Naples, Florida has both. Set on 20 beachfront acres overlooking the Gulf of Mexico with 3 miles of white sandy beach, we enjoyed one spectacular sunset from our room balcony and another as we sat on the beach with a bottle of wine. Doesn't get much better.
Located just north of the charming, historic town of Naples (worth the visit alone) the resort has all the amenities and attributes that luxury travelers have come to expect and appreciate from a Ritz Carlton. The service is impeccable, the rooms wonderfully decorated, the food is excellent and there is lots to do, including a terrific children's program.
Outside the lush grounds are immaculately maintained with stunning gardens, a natural mangrove and soothing fountains. Inside there is a collection of over 250 pieces of museum quality art and antiques amid elegant furniture, Persian rugs and crystal chandeliers.
The resort has been awarded the Forbes Five Star and the AAA Five Diamond designations. Conde Nast lists it as one of its Reader's Choice, Top 100 Hotels in the U.S, one of the Top 50 Resort Spas in the U.S. and a member of its Gold List. Travel & Leisure magazine named the resort to its Top 100 Hotels in the U.S. and Canada and to its Top 25 Hotels Spas in the U.S. and Canada.
THE ROOMS at Ritz Carlton, Naples
The resort has 450 guest rooms including 70 Club Level rooms and 35 suites. Somehow though, they manage to create a sense of intimacy, even with this many rooms. All rooms have a view of the beach and the Gulf and all but 11 have balconies. Guest rooms start at a spacious 406
square feet and go up from there. All guest rooms feature a hardwood floor entry, a 32-inch LCD flat-screen television, DVD player and iPod docking station. Bathrooms are equipped with marble vanities, tub/shower, telephone and Bulgari bath essentials. Each guest room also contains a fully-stocked mini bar and an in-room safe.
The rooms are so comfortable they feel more like your own home than a hotel, or at least the home you'd like if you could afford it. Soothing colors, a plush, comfortable reading chair, fluffy beds with luxurious linens, rich fabrics and fantastic views make it hard to leave the room.
DINING at Ritz Carlton, Naples
With the closing of the acclaimed Artisans, The Grill, has become the go-to spot at the resort. An elegant wood paneled room with a private club feel, nightly piano or guitar music and a roaring fireplace set a romantic mood for aged prime steaks and seafood. Have a drink at the bar first, they have an excellent list of specialty cocktails.
You ll want to try the black truffle risotto and if steaks are not your thing, the venison chop is outstanding and the fresh Dover Sole with a brown butter sauce is to die for. For dessert the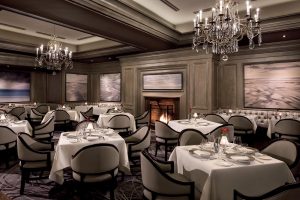 apple crumble with hazelnut cake, crème Anglais and pear ice cream or the chocolate soufflé with vanilla Chantilly, caramelized hazelnut and lemon emulsion will do the trick.
The food is excellent, the surroundings warm and intimate and the service is impeccable. I would be remiss, however, if I didn't comment on the wine list. While embracing all the right regions, it is very overpriced. There is nary a bottle under $80, for which in this day and age, there is no excuse. Sunday-Tuesday, all bottles are half price, but still….
Dusk may be the most stunning design for a sushi restaurant we have seen. The interactive bar with wood and leather chairs surrounds a beautiful 150 gallon fish tank and is accented by hanging copper beads. Enjoy fresh Nigiri rolls, Tempura and Sashimi with cooked and vegetarian options. Try the Asian Pear Martini and enjoy chilled sake with your meal.
The outdoor Gumbo Lumbo restaurant is another casual choice, close to the Gulf and offering wonderful sunset views. Open for lunch and dinner, the food has an island bent to it with items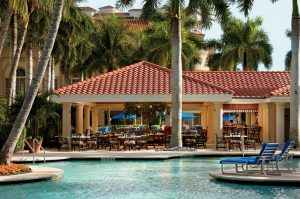 like black bean soup with green chili corn bread, crispy conch fritters with a chorizo-lime remoulade and mango barbecued chicken with ham hock hash and charred corn-black bean salsa. All delicious.
Terrazza, next to the pool, offers breakfast, lunch and a family friendly Italian dinner. The Poolside Café offers sandwiches and salads for lunch and H20+ is open seasonally at the spa offering an assortment of healthy shakes and smoothies. The Gourmet Shop, opening at 6:30am, offers a selection of gourmet coffees and breakfast pastries in the morning and homemade gelato, lemon pound cake, éclairs, tiramisu, an assortment of cookies, key lime pies, and a selection of tarts throughout the day
SERVICE at Ritz Carlton, Naples
The housekeeping staff is efficient and the room always perfectly prepared whether it is during the day or in the evening.
RATES at Ritz Carlton, Naples
From $1,371 Prime Season Weekend
WHAT OTHERS SAY About Ritz Carlton, Naples
AAA Five  Diamond Award
Forbes Four Star Award
Hope the staff is in charge of running heaven pray patrons of this gorgeous confection perfectly located on the Gulf Coast of Naples where stellar service is unparalleled, as are the impeccable grounds with an exquisite beachfront offering sublime sunsets; elegant interiors include a huge, world-class spa, spacious, beautifully decorated rooms (the club level is a must) and incredible dining, it can get crowded during peak seasons, but it's a beautiful escape that's deemed well worth the price tag. – ZAGAT
PROMOTIONS at Ritz Carlton, Naples
Click here for this property's promotions.