OVERVIEW of Nick's Cove
The 1 ½ drive to Nick's from San Francisco is worth the trip alone as you make your way up the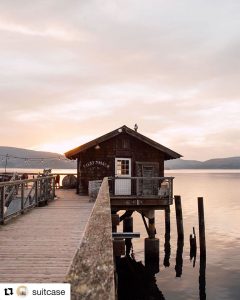 coast though redwood forests, on winding mountain roads with more hairpin turns than you've ever experienced and beside green pastures with grazing livestock. The mountains were dotted with yellow flowers and purple heather and the views of the Pacific, lined with towering cliffs was just breathtaking.
Nick's is a collection of cottages on the eastern shore of Tomales Bay. Built in the 30's, the cottages have been wonderfully updated with luxury amenities, but retain the charm and historical significance of their original design. Most are set on pilings over the water, some set back beside a creek across the road. Owning the cottages and restaurant was a long time dream of restaurateur Pat Kuleto and highly rated chef Mark Franz who both grew up in the area and had a particular fondness for Tomales Bay. It took eight long years and countless frustrations, like the need to protect the red legged frog (which by the way is a nice sound to wake up to) but the result is a marvelous retreat that is the perfect getaway from everyday life. Remote, tranquil….and no cell service!
THE ROOMS at Nick's Cove
There are only 12 cottages and each is decorated in its own unique style. Mine, Fly Fisherman, was a wonderful room that reminded me of luxury hunting or fishing lodges I have seen. A cozy sitting area had pine paneled walls, beamed ceilings, antique armoires, a leather couch, a reading chair and a wood fueled Franklin stove. The bedroom area had beige walls with cream colored curtains, a plump Queen bed covered in luxury linens and down pillows and comforter. Antique fishing gear and local art graced the walls. The bath was huge with two large porcelain sinks, a deep claw foot soaking tub and an oversized separate shower with a rain forest shower. EO Toiletries are all organic (hey, it's California) with fragrances like French Lavender and Grapefruit and Mint. The towels are massive and soft, the floors heated to 85 degrees. The room was also stocked with complimentary snacks, coffee and bottled water.
DINING at Nick's Cove
Imagine a rustic fishing lodge or a coastal roadhouse with spectacular views, add crisp linens, gleaming tableware, delicious food and a fun wait staff and you just begin to see the magic that is Nick's. Outside you'll find wonderful antique items from days gone by, an old phone booth, a classic Jeep, a gas pump and a statue of an Old Salt. Inside you see beamed ceilings, a stone fireplace, hardwood floors, a great old bar and windows, windows, windows looking out onto the Bay.
Be sure to leave some time for a cocktail before your meal. Savor the view and enjoy some interesting homemade conconctions; like Ruthie's Gimlet, Hanger One raspberry vodka, fresh lime juice, an Oyster Shooter, Siete Leguas blanco, Nick's relish, salted rim, Drakes Bay oyster or a Blue Moon, Stoli blackberry vodka, lemon juice, Schramsberg Mirabelle.
The menu changes daily and much of what is offered comes from local waters, but there is something for everyone from a delicious looking burger to fois gras, Block Island swordfish and Coq Au Vin. The fresh, ice cold oysters were fantastic. The signature BBQ oysters were a revelation. The Bodega Dungess crab cakes were delicious and the chowder made with leeks and Applewood smoked bacon was outstanding.
The wine list highlights wines that are produced locally, although you'll also find some interesting choices from France, Spain and Italy.There are about 20 wines by the glass and nearly 30 1/2 bottles which is great. There's a wonderful primer on pairing different wines with oysters based on their source; East Coast best with mineral wines like French burgundies, Pacific oysters best with fruitier wines like a Sauvignon Blanc or an un-oaked Chardonnay. Lots of good selections on the full list and thankfully the pricing is very reasonable. You'll have no trouble finding something you like for under $50.
Open for breakfast, lunch and dinner this is the perfect place to while away an afternoon or to share a romantic dinner.
WHAT OTHERS SAY About Nick's Cove
Dining
Since the 1930s, travelers "driving up the coast" on Route 1 have stopped at this "rustic" Marshall fish house for the "beautiful" view of Tomales Bay that's the "icing on the cake" of "fresh" and "comforting" seafood (including "terrific" barbecued oysters) paired with "local" wines; they also come for the "old-school beach" atmosphere that befits "everything from shorts to Sunday best." ZAGAT
THE SERVICE at Nick's Cove
Both the cottage and restaurant staff were friendly and efficient. One little incident speaks volumes for the service here. I had forgotten to submit my breakfast request for the next morning. The phone rang early and the fellow said, "I saw you opened your blinds so you must be up, are you ready for breakfast? Your newspaper will be delivered shortly." Now that is attentiveness.
THE RATES at Nick's Cove
From $Pea $538 Season Weekend
WHAT OTHERS SAY About Nick's Cove
Hotel
For solitude just one hour north of San Francisco, sea lovers head to the shores of Tomales Bay for this 1930s restored complex of "fabulous" nautically themed cottages (some on pilings set over the beach, one fashioned from an old boathouse) with wood-burning fireplaces, plasma televisions, WiFi and bathrooms with deep-soaking tubs and heated marble floors; breakfast is delivered to your door each day, and the "great" on-site restaurant focuses on local, sustainable seafood. ZAGAT