OVERVIEW of Mandarin Oriental
The Time Warner Center has become a mecca for New Yorkers seeking the hottest restaurants and shops. Occupying floors 35-54 of the Center, the Mandarin offers stunning views of Central Park, the Hudson River and the City and its bars and restaurants are the "in" places to be seen.
The Mandarin chain has slowly crept up on the super luxury leaders, Four Seasons and Ritz, to become a formidable competitor in markets in which they compete together. In fact, the Mandarin has surfaced as the #1 or #2 hotel in many major cities.
THE ROOMS at Mandarin Oriental
This one has 203 guestrooms and 48 suites, all with floor to ceiling windows and remarkable views. The hotel claims $27,000 worth of home entertainment and communications technology in each room! We had a plasma TV in our bedroom and one in the bathroom, a DVD player, a CD player, Internet access and all kinds of phone and fax lines. The rooms are decorated with a pale green grass cloth wallpaper, black Oriental style furniture and wood trim, silk bedside lanterns and luxurious bedding.
While my decorating tastes tend more toward the traditional, our room was so comfortable and
the view so amazing, that we cancelled our dinner plans and ordered from room service. Our Deluxe Hudson River King room was somewhat small, but the sleek marble and glass bathroom, which was almost the size of the bedroom, more than made up for it. The bath had a soaking tub next to a large picture window where you could enjoy the views of the River while watching the bathroom TV. The glassed in shower had a regular and rainforest shower head and the toilet had a separate room unto itself. A wonderful array of Aromatherapy bath products covered just about any need.
DINING at Mandarin Oriental
Asiate is a AAA Four Diamond and Forbes Four Star restaurant serving contemporary American cuisine with stunning panoramic views, exquisite service and a wonderful wine program.
Spectacular views create the foundation for Aviary NY a cocktail lounge featuring very creative cocktails and small food plates. The Office NYC is an intimate speakeasy-style space, featuring collectors' art and artifacts, as well as an 'extinction' collection of some of the rarest spirits in the world.
THE SERVICE at Mandarin Oriental
The attention to detail and service here is what sets hotels like this apart from their lesser brethren. By the time we had ridden the elevator to reception, the doorman had determined our names from our luggage and we were greeted at the front desk by name. The rooms had reading glasses and paperbacks, slippers and bathrobes, an umbrella and a lint brush. You could have your shoes shined or your clothing pressed at the push of a button. The staff brought Fiji water at turndown and a NY Times in the morning.
When we ordered breakfast, we were given a precise time at which it would arrive and it came 10 minutes early. When we called for our car, it was brought promptly from the garage. Check in and out literally took seconds. Scarcely, anything goes unnoticed by this efficient and dedicated staff.
Now this may not be true, but it seemed to me that there was a steady stream of wonderful scents being pumped into our room from the ventilation system. Even if that was my imagination, it tells you a little about what this place does to you.
THE SPA at Mandarin Oriental
For the health conscious, there is a 15,000 square foot spa, and a fitness center with a 75 ft. lap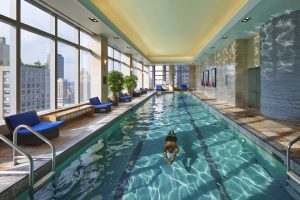 pool overlooking the Hudson. This Forbes Five Star Spa is one of the best you will ever experience.
THE RATES at Mandarin Oriental
From $1052 Peak Season Weekend
WHAT OTHERS SAY About Mandarin Oriental
AAA Five Diamond Award – Lodging
AAA Four Diamond Award – Dining
Forbes Five Star Award – Lodging
Forbes Four Star Award – Dining
Forbes Five Star Award – Spa
"New York energy meets incredible Asian serenity at one of the swankiest (and priciest) destinations in Manhattan, where Zensational rooms have floor-to-ceiling windows, the staff is trained (or born) to perfection, the gorgeous spa feels like a temple and Asiate is one of the best hotel restaurants in town; the only downside is the awkward entrance via public elevator, though with access to more great restaurants and shopping in the next-door Time Warner building, you barely need to leave the hotel" – ZAGAT
PROMOTIONS at Mandarin Oriental
Click here for this property's promotions.