OVERVIEW at Maison Fleurie
This may well be THE value accommodation in the Napa Valley. Located in the heart of the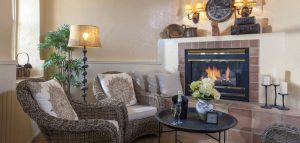 valley in Yountville, this charming B&B sits on a half acre of beautifully sculpted gardens and is made up of three stone and brick buildings. Maison Fleurie was built in 1873 as the Magnolia Hotel, constructed of stone from local quarries. A few decades later, bricks from a demolished church and a balcony from San Francisco's old French Hospital were added. It is the oldest hotel in the Napa Valley. In the early days, the Magnolia was not only a place for travelers to lodge but also, according to local lore, a bordello.
It is within walking distance of excellent restaurants, tasting rooms and boutiques. Maison Fleurie is part of the Four Sisters group of inns and B&B's.
THE ROOMS at Maison Fleurie
The 13 rooms are beautifully decorated with antiques and rich colorful fabrics. Some have a spa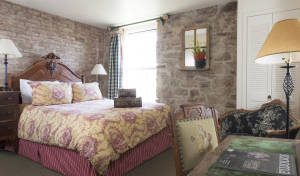 tubs, window seats, fireplaces and outdoor patios. My room, #1 was spacious, had a fireplace and a great bed and shower. A couple of the rooms are very small, so choose carefully. Room #12 has a king bed, fireplace, private entrance, jetted spa tub and overlooks the pool area.
DINING at Maison Fleurie
The signature breakfast buffet is included with your stay and features a hot entrée prepared by the  innkeepers. French Toast, Spinach and Mushroom Baked Eggs, Hobo Breakfast, French Bread Custard or Veggie Quiche are just a sampling of what you can expect at breakfast each morning. They also prepare a fresh baked good such as our delicious Honey-Buttermilk Muffins,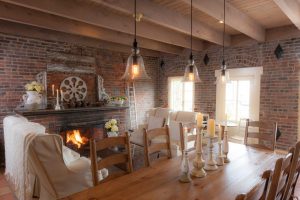 Blueberry Sour Cream Scones or Pumpkin Muffins.
Each afternoon, from 5-6:30pm, the Inn offers complimentary wine and hors d'oeuvres like Hot Artichoke Dip, Sundried Tomato Tapenade and a Blue Cheese, Honey & Walnut appetizer.
THE RATES at Maison Fleurie
From $372 Peak Season Weekend
OTHER at Maison Fleurie
There is an on-site outdoor pool and hot tub and complimentary bicycles.
PROMOTION at Maison Fleurie
Click here for this property's promotions.