Temporary closed for renovations. Scheduled to re-open in 2023.
OVERVIEW of Blantyre
In 1902 Robert Paterson built Blantyre as a model of his mother's ancestral estate in Blantyre,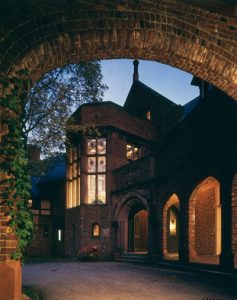 Scotland. Complete with towers, turrets and gargoyles, the grand property served as the family's summer and fall retreat where they entertained frequently in a lavish style befitting the times. These magnificent properties were the Berkshire's version of the Newport Mansions and the Great Adirondack Camps.
After numerous owners, the property fell into disrepair and in 1980 Jack and Jane Fitzpatrick purchased the abandoned estate for their daughter Ann Fitzpatrick Brown. She began the painstaking process of restoring the Tudor mansion to its former glory, but this time as a luxury hotel. Much of what Blantyre is today is a credit to Ms. Brown's vision. Sadly she passed away a few years back and the property was sold to new owners.
Most of us don't have royal blood in us, or for that matter will ever meet a "royal". But for the length of your stay at Blantyre, you'll get a taste of what that might feel like. Driving up the tree lined gravel driveway, a magnificent structure appears, perched on a hill at the end of the road. Draped in ivy, it appears to be a European castle, and as you step inside the Main Hall you can almost convince yourself that it is. The baronial Hall has dark wood paneling, soaring wood beamed ceilings, a massive stone fireplace, wonderful antiques and heirlooms and vases filled with beautiful fresh flowers. To the right is the bright and airy Music Room, to the left the Dining Room and Conservatory. A sweeping staircase with massive oil paintings gets you to the bedrooms on the second floor. This is going to be fun.
THE ROOMS at Blantyre
There are eight rooms and suites in the Main House, all on the second floor and many with fireplaces. We stayed in the Crimson Suite, an enchanting room with 12 foot ceilings framed in wide crown molding, a fireplace with a carved mantelpiece and a hand carved four poster bed set in an alcove of bay windows. Fabrics are lush damask and chinz in shades of beige, crimson and burgundy. Beige carpeting was offset with colorful Oriental throws. Gold framed mirrors and artwork graced the walls. Colorful snap dragons filled the vases. The room looked out on the front lawns and had a wonderful terrace with table and chairs, perfect for breakfast or an afternoon cocktail. In the dressing room, there's a mirrored vanity and stool and a glorious bench piled high with pillows that made for a great nap before dinner. The large bathroom had a deep claw foot soaking tub and our newest addition to the "Hall of Fame Showers", a glass enclosed gem that I had trouble leaving. Magnificent accommodations.
There are twelve rooms in the Carriage House, which is just 200 yards from the Main House. Many guests prefer these rooms for their total privacy. First floor rooms have a landscaped patio and second floor a balcony. These rooms are individually decorated, by Ann, showcasing another of her many talents. No exaggeration when I tell you that each room evoked a 'wow' when we opened the door.
Finally, there are four cottages, two of which have two bedrooms. These are for longer stays, two couples or just complete privacy. All but one offers a kitchen or kitchenette. They are enchantingly decorated (you won't believe the hand painted murals) and unbelievably cozy and warm.
DINING at Blantyre
The Bistro serves breakfast lunch and dinner in a cozy and intimate space with a traditional brasserie menu with a New England bent. You'll find French onion soup, Moule Frites, Trout
Amandine, Steakk Frites and more. Each night offers a special like Dover Sole on Fridays.
The Conservatory is a more formal dining experience, offeing a seasonal four-course tasting menu that changes nightly. Selections reflect the freshest ingredients and flavors of the local area.
The Champagne Salon in partnership with Dom Pérignon has both indoor and outdoor spaces, allowing guests and visitors to enjoy inventive champagne cocktail creations and light bites during all seasons.
The Cloister: Located in the estate's secluded 24-person outdoor garden, the "Tin to Table" menu of this champagne restaurant features an upscale twist on caviar in a casual and laid-back setting, surrounded by the estate's carefully manicured flora.
La Cave: Nestled inside the estate's speakeasy-inspired space, La Cave's intimate 30 seats embodies a sleek and sophisticated design, with a cool color palette featuring rich charcoal
greys adorned with gold and brass accents. The Berkshire dining menu specializes in raclette, fondue, and charcuterie.
The wine list is quite remarkable and an obvious hobby of the owner. The cellar has some 18,000 bottles and 2500 choices. True wine lovers will really enjoy the depth and breadth of this list. Virtually every major wine region is represented and while there are certainly expensive wines here, there is also plenty under $60. 14 wines by the glass and an amazing 100+ ½ bottles.
THE SERVICE at Blantyre
The achievement of near "perfect" service is elusive to many, but somehow Blantyre has managed to figure out what many cannot. Here, it goes beyond just the human interaction, which in itself is wonderful, but it extends to little touches that make the visitor experience quite extraordinary. They could get away with doing less and it would still be a wonderful experience, but it wouldn't be a Blantyre experience. There is a piano player in formal attire every night whether there is one guest or 20. The flower arrangements in the rooms, public spaces and restaurants are truly magnificent; I've never seen such beautiful table arrangements in a restaurant. Your morning newspaper arrives at your door early in the morning, slippers left at turndown are tied with ribbon and our breakfast basket had fresh roses tied with a colorful ribbon. And the hits just kept on coming…
We were greeted at the entry as we arrived in our car and escorted into the building where we were given a brief tour of the downstairs. No check-in, the "paperwork" is handled when you reach your room. A personal welcoming note from the owner and a complimentary cheese platter filled with fruit and breads and crackers greeted us. After a brief orientation, a waiter arrived with a half bottle of chilled Champagne (you can also choose a red or white). Nice start.
A little later when we went downstairs for a spa appointment, we asked a tuxedoed staff member (turns out he was the dining room manager) how to get to the spa. He promptly grabbed 3 umbrellas and walked us the 200 yards to the spa in the pouring rain.
Before dinner guests congregate in the Main Hall or Music Room for cocktails served on linen napkins. The setting is wonderful with piano music in the background and lively conversation all around. As you enjoy your drinks and complimentary canapés, menus are brought and your order is taken before you are taken to your table.
When we returned from dinner, the lights had been set low, the bed turned down, chocolates set by the nightstand and a note from the manager with a delightful gift to take home with us.
THE RATES at Blantyre
From $835 Peak Season Weekend. Rates include full breakfast, on property activities (excluding spa treatments). 10% Resort fee.
WHAT OTHERS SAY About Blantyre
Forbes Five Star Award – Lodging
Forbes Four Star Award – Dining
Member Relais  & Chateau
Wine Spectator Grand Award winner
"Ever wonder what it would be like to live like a Tudor?" Head to this "formal" 1902 Birkshires country estate, a Relais & Chateau lodging where "luxury comes in many forms"; arise from your "charming" room ("be sure to stay in the main building"), "play shuffleboard or go touring and hiking" and then finish with a "superlative" meal that's "unlike anything you've ever experienced"; indeed "it lives up to all reports", so there's no better place to stay in the area." ZAGAT
PROMOTIONS at Blantyre
Click here for this property's promotions.