Vetri may be the toughest table to get in Philadelphia, partly because there are only 10 tables,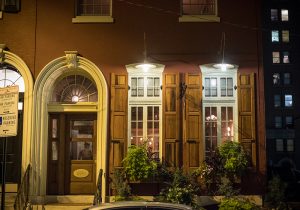 but mostly because everyone in Philadelphia wants to eat here. The time on the phone to get a reservation, however, is well worth the effort. This is a most wonderful dining experience on so many levels.
Housed in a brownstone in Center City that was the original site of Le Bec Fin, Vetri is a single, intimate and cozy room. The walls are painted in a faux gold color that cast a warm glow over the room and are offset by dark wood raised panels that climb halfway up the wall and dark wood trim around the room. Wide plank hardwood floors, an antique hutch centering the room and a large mirror set between two tall windows at the front of the restaurant create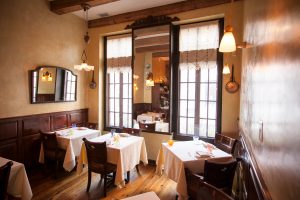 a comfortable and rustic trattoria look and feel. Tables, surrounded by ladderback chairs, are set with crisp linens, tiny vases of fresh flowers and hand-painted plates.
Chef/Owner Marc Vetri's menu changes seasonally and makes liberal use of local ingredients. His cooking, however, cannot be pigeonholed into a "type" of Italian food. The traditional foundations are there, but he strays at times and when he does you are glad he did.
We started with a sweet onion crepe with a white truffle fondue whose flavors were marvelously concentrated. A delicate spinach gnocchi was served with shaved ricotta and brown butter. We shared a pasta course of casoncelli cooked with fresh sage and pancetta. Savory and smokey…just delicious. The star of the night, however, was an entree of perfectly roasted turbot served with cherry tomatoes and olives and instead of the usual potato pancake, over a piece of crisp proscuitto.
Artisanal cheeses and a glass of port ended a most memorable meal. Next time I try the chocolate polenta souffle with vanilla gelato. There's a wonderful selection of grappas, dessert wines and single malt scotches.
If you want a real treat, call ahead and order the spaghetti and lobster. Out of the shell and cooked with garlic, olive oil and brandy. This was Marc Vetri's signature dish when he opened the restaurant and continues as an off-the-menu special for returning regulars.
I love, love, love this wine list and Jeff Benjamin, Vetri's partner, GM and Sommelier, is to be commended for not falling into the overpriced wine trap of so many restaurants. He obviously understands that wine is meant to be enjoyed. There are about 10 wines by the glass and the rest of the 500 label/5,000 bottle cellar is mostly Italian, organized by complexity; light and medium bodied etc. Most of the wines are under $40! How about a $40 Super Tuscan? We enjoyed a Enzo Boglietti Barbera D'Alba at $50, suggested by a very knowledgable and pleasant wine steward and served in Reidel glasses to maximize the enjoyment of the wine.
Reservations are accepted two months in advance, starting at noon.
The only thing keeping this wonderful restaurant from our top rating is a bar at which you can linger and enjoy the wines. Nevertheless, do not come to Philadelphia without enjoying this magnificent restaurant.
ROMANTIC QUOTIENT: It's too small and bustling to be romantic, but who cares, you come here for a wonderful meal and won't be disappointed.
WHAT OTHERS SAY…
AAA Five Diamond Award – Dining
Wine Spectator Award
"Long live the king" proclaim supporters of "fine-dining patriarch" Marc Vetri, whose eponymous Washington Square West flagship "takes Italian to a new level", one so "sublime" the "experience" becomes "more fantasy than restaurant"; it's "outrageously expensive", but "you really can't be concerned about the price tag", as the tasting-only menu and "impeccable" service (so prescient you might suspect "the NSA is involved") are "worthy of all the hype." ZAGAT