We never miss Trattoria La Festa when we are in Stowe. It's not fancy or upscale, but the owners always seem to be genuinely happy to see you and everyone is having fun.
Picture barn wood and red walls, checkered tablecloths, wine bottles with candles, wonderful music, the aromas of Tuscany and you can imagine Trattoria La Festa. Not romantic in the sense of our other choices, but equally worth the trip. Chef owned by Antonio and Giancarlo DeVito and Patty Hammer, this wonderful spot with homemade breads and salad dressings, old family recipes and a Wine Spectator Award of Excellence is like coming home to your big Italian family. It is rumored that "Mama" still rules the roost in the kitchen.
There are so many good things to eat here. Try the bruschetta, homemade crusty bread with a number of different toppings. Worth it for the bread alone. Then get an appetizer portion of Ravioli di Pollo – Raviolis filled with grilled chicken and smoked mozzarella in a delicate rose sauce with peas. The penne Bolognese is also a great appetizer choice. For an entrée, I like Mama's chicken, a 1/2 chicken that has been marinated in herbs and then cooked over a wood fire. I also like the veal marsala, with just the right amount of sweetness from the wine.
Finally for dessert, I can never resist the cannollis, filled with fresh ricotta and chocolate chips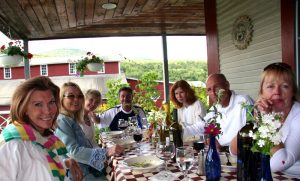 and flavored with sambuca.
In nice weather sit out on the porch overlooking the mountains. In colder weather, the side room (you have to go through the kitchen to get there) is more private and has its own fireplace.
The wine list is outstanding, understandably focused on Italian wines, and lovingly assembled. While there are wonderful choices at the high end, there are many reasonably priced wines under $50.
Appetizer $6-$13, entrée $15-$20. Dress is casual. All credit cards accepted.
ROMANTIC QUOTIENT: Medium, can be noisy, but this is a fun place.
WHAT OTHERS SAY…
"Like in the movie The Big Night, everybody is clinking glasses of Chianti and having fun. Dark barn-board walls are decorated with celebrity photos. Passion and care arrives with every plate. A fine meal can be assembled just with the many appetizers but do not miss the entrees or dessert. The DeVito brothers' exceptional entrees and desserts are inspired by regional home cooked specialties from all over Italy. These are the kind of dishes you might have eaten as a child if you had an Italian grandmother. An award winning wine list will accompany every meal, Antonio, Giancarlo, and Patricia will always be there to greet you. Buon Appetito" Gourmet Magazine