In almost every town, there's a place that people, locals and visitors alike, seem to gravitate. It becomes a favorite for any number of reasons, but mostly because it feels good to be there. Rutherford Grill is just such a place. Owned by the Hillstone Restaurant Group who have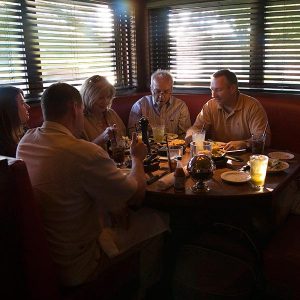 restaurants all over the country, we became fans when we first visited the East Hampton Grill in New York. Here's the very simple formula; limited but well done casual menu, a fun vibe, great décor, a warm staff and an excellent wine list. We enjoyed the EHG so much on our last visit, we went back a second night!
Rutherford Grill is right on Rt 29 in the heart of the valley. Anchored by a big island bar and an open kitchen, you can dine inside in cozy booths or outside on the patio. There's a wonderful energy here and odds are good you'll sit next to a winemaker from the valley at the bar.
The burgers are delicious, the prime rib outstanding and the ribs are fall off the bone tender. I love the rotisserie chicken and mashed potatoes and never miss an order of deviled eggs or the cornbread.
The basic wine list is interesting and varied with virtually nothing over $100. The reserve list has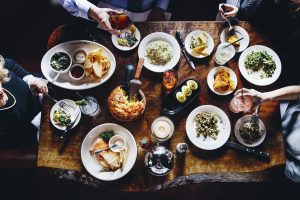 some outstanding wines with prices to match. However, should you decide to bring your own wine, there is no corkage fee.

ROMANTIC QUOTIENT: Not so much, but it is lively and fun.
WHAT OTHERS SAY
"Delicious and consistent", this "reasonably priced" Napa Valley "gem" wins fans with its "awesome" Californian cuisine including "to-die-for" cornbread and a "must-try" grilled artichoke delivered by "attentive yet not overbearing" servers amid "mid-20th-century roadhouse" decor; "lovely" outdoor seating and an "extensive" wine list plus "no-cost corkage" are added reasons this "busy" favorite is deemed "absolutely worth the wait." ZAGAT