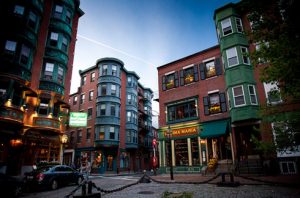 Set in an old townhouse and tucked into a corner of the North End, Mamma Maria is one of my favorite Italian restaurants, in a town of excellent Italian food. I like everything about this place; it's location on a square, its elegant decor and small, intimate dining rooms, its welcoming spirit and its wonderful food.
I particularly like to sit upstairs at a window table overlooking the square, where you can gaze through iron paned windows over window boxes filled with flowers to the street below and Boston beyond. The Verdi dining room, with its fresh flowers, warm, pastel colors, long draperies, interesting artwork and gleaming crystal and silverware is intimate and romantic. Add smart service and a leisurely dining pace and you have the makings of a wonderful
evening.
The food is amazing and atypical of many Italian restaurants. It is more regional in nature, more rustic, more country. Last visit, I started with an appetizer portion of rabbit (my new favorite thing, it tastes like chicken) roasted with pancetta and rosemary and served over hand rolled pappardelle pasta. I followed that with a mouth watering osso buco which I never miss ordering when it is available. It was served with a saffron risotto and was one of the best I have ever had. Jen had the carpaccio which was good, but pretty standard. Her country style roasted chicken with crisp roasted potatoes and grilled vegetables however, was outstanding.
The wine list is relatively small, about 120 wines, but very well developed. It concentrates on Italian (go figure!) and American selections and has some unusual wines. The choices are very good and the pricing is very reasonable.
ROMANTIC QUOTIENT: High
WHAT OTHERS SAY…
AAA Four Diamond – Dining
"Longtimers have been sopping delicious sauces and sipping from the nice wine list at this genuine-feeling North End Italian for decades, while those who've recently discovered it can't wait to go back either (despite what a few say are expensive tabs); the quiet dining room tucked away in a historic townhouse offers romantic ambiance, leading to an upscale but not pretentious must-visit experience." ZAGAT