In 1885 Keens Chophouse was opened by Albert Keen, a noted figure in the Herald Square Theatre District. Keens soon became the lively and accepted rendezvous of the famous. Actors in full stage make-up hurried through the rear door to "fortify" themselves between acts at the neighboring Garrick Theatre.
Keens Steakhouse owns the largest collection of churchwarden pipes in the world. The tradition of checking one's pipe at the inn had its origins in 17th century Merrie Old England where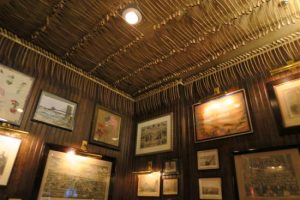 travelers kept their clay at their favorite inn – the thin stemmed pipe being too fragile to be carried in purse or saddlebag. Keens's pipe tradition began in the early 20th century.
The membership roster of the Pipe Club contained over ninety thousand names, including those of Teddy Roosevelt, Babe Ruth, Will Rogers, Billy Rose, Grace Moore, Albert Einstein, George M. Cohan, J.P. Morgan, Stanford White, John Barrymore, David Belasco, Adlai Stevenson, General Douglas MacArthur and "Buffalo Bill" Cody.
Today, Keen's is considered one of the premier steakhouses in NYC and is the home of the legendary "Mutton Chop" . It is hard to find a more perfect setting for a steakhouse. It is every male's idea of what a steakhouse should like like. Interestingly, it was a male only restaurant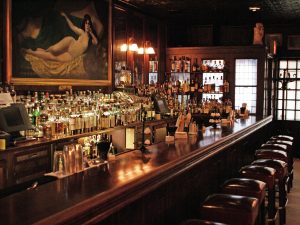 until 1905 when actress Lillie Langtry took Keens to court for having denied her access to its gentlemen-only premises. She won her case, swept into Keens in her feathered boa and proceeded to order one of our famous mutton chops.

History aside, the food here is fantastic with fresh oysters, Maryland lump crab cakes, steaks, prime rib, authentic Dover Sole, lobster and more. Wonderful creamed spinach and perfectly crusty hash browns. Splurge on the Bananas Foster with dark rum and vanilla ice cream.
Classic cocktails and a very good wine list with some very fair pricing. Open for lunch and dinner. Fantastic group of private rooms.
ROMANTIC QUOTIENT:
Low ceilings, paneled walls, oil paintings contribute to a sexy vibe, unusual in a steakhouse.
WHAT OTHERS SAY…
The "granddaddy of all NYC steakhouses", this circa-1885 Midtown "temple to meat" remains "rock solid", with "sinful" "Flintstones-size" mutton chops and other "succulent" slabs of beef in "masculine" "museum"-like surrounds with "lines upon lines" of antique pipes on the ceiling; it's "not for the weak of wallet", but "welcoming" service and an "endless" scotch selection are other reasons you "won't regret splurging." ZAGAT