Every once in a while, you come across an experience so sublime, you feel the need to tell everyone about it. Such is the dining experience at the Inn at Little Washington, about an hour and a half outside of Washington in the Virginia countryside. This is a truly remarkable place and I suggest you spend your last night here and stay in the Inn. If that is not possible, then take a car service and make the trek to this mecca of amazing food.
Chef/owner Patrick O'Connell has been called "the Pope of American Cuisine". He and the restaurant have won virtually every honor available from Michelin, Zagat, James Beard, AAA, Forbes, Wine Spectator and more. He is currently President of Relais & Chateaux North America and is as close to dining royalty as we have in this country. Remarkably, he has no formal training and is self-taught.
The dining room is warm and comfortable, awash in deep colors of hunter green, burgundy, brown and gold. Rose colored silk lampshades hang above each table creating an intimate and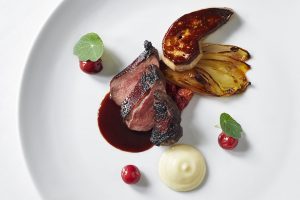 private setting. Having read all the accolades for this restaurant, there is a sense of anticipation in the air, of something special to come. And it does not disappoint for one second.
We were led to our table and presented with personalized menus that welcomed us by name. Our server, William, was gracious, helpful and fun and gave us ample time to peruse the menu. As we placed our order I asked if it was possible to taste a tiny morsel of the rabbit entrée. I'm usually pretty adventurous, but didn't want to take a chance on something I had not had before. William assured me he could accommodate and to my surprise brought a nearly full portion with our entrees. (at no charge) It was wonderful, delicate, juicy, wonderfully textured and seasoned and it was a white meat which surprised me.
Just reading the menu fills your imagination with the varied flavors and textures; Salty Virginia country ham, sweet D'Anjou pear, peppery baby arugula and tart parmigiano-reggiano to name just one. I started with an herb crusted baby lamb that was sliced carpaccio style and served with tabouli and rosemary mustard, a perfect example of O'Connell's creative take of a restaurant standard. Jen had freshwater prawns over charred Vidalia onions with a mango mint salsa. Great flavors. As we finished our first course, we were served a chilled vichyssoise with fresh sorrel in a small demi-tasse cup. The sorrel added a wonderful pungency to the potato and leek soup. Sadly, I have tried to duplicate these wonderful flavors unsuccessfully so far. For the second course, Jen chose the fricassee of Maine lobster with potato gnocchi and curried walnuts. Who would think to marry curried walnuts with flour dusted and sauté chunks of lobster? I like the combination of poultry and fruit and the marinated pan seared squab on garlic polenta with a fresh blackberry sauce was a perfect choice for my second course. For the main event I had a duet of veal; pan roasted loin of veal and braised veal cheek with raviolis of Virginia country ham, asparagus and forest mushrooms. I love the use of the salty Virginia country ham with the mild veal flavors. Jen had prime tenderloin of Angus beef on red wine risotto with morels and baby white asparagus. Cooked perfectly and the risotto was rich and wonderfully seasoned.
Even I, who seldom eats dessert, couldn't resist the temptation, on this day. We started with
"Seven Deadly Sins", a sampling of the Inn's most decadent desserts; chocolate cakes, flans, tarts, homemade ice cream and sorbet. Next we tried the southern butter pecan ice cream sandwich with hot caramel sauce and ended with a selection of imported cheeses. Wow!
As we finished dinner, William asked if we would like to visit the kitchen and meet Chef O'Connell. Just the chance to see this magnificent multi-million dollar kitchen was worth the trip. A gracious and, I am sure tired, O'Connell gave us a mini lesson in how the kitchen works. There is a Chef's Table available for dining in the kitchen and an opportunity to watch a master at work.
The restaurant has an extensive wine cellar of nearly 14,000 bottles and includes selections from California and France, of course, but also Italy, Spain, Portugal, Australia and local wines from Virginia. There are a couple dozen choices by the glass and nearly three dozen 1/2 bottles, which I think is a wonderful idea as it allows for two wine choices for different courses. My one criticism, as it is with many other restaurants, is that the wine list is overpriced. I do not believe that 3 or more times retail pricing is necessary or fair on a wine list.
Dining here is a special occasion, even if you have nothing to celebrate. As such, dress is semi-formal to formal. Two gentlemen, celebrating anniversaries, wore tuxedos the night we were there, and it seemed perfectly normal in this glorious setting.
ROMANTIC QUOTIENT: Very High. Ask for a corner table in either the Loggia or the Garden Rooms. They are the most private and overlook the garden and patio.
WHAT OTHERS SAY…
AAA Five Diamond Award
Forbes Five Star Award
Wine Spectator Grand Award
2 Michelin Stars
"About as close to heaven as you can get while still alive" gush gourmands who swear "you won't find a better meal" than at the "unbelievable" on-site Relais Gourmond restaurant at this "fabulous" inn 90 minutes from the Capitol; almost everything is "beyond perfection" – from the "oveer the top decor"to service that "consistently anticipates and fulfills your needs" to the "uniquely furnished rooms" so- "sell your first born" if you have to and "be prepared for a shock when you get your bill." ZAGAT