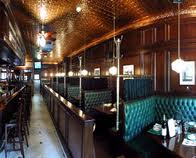 Everyone has their "go to" restaurant, that place where you feel so comfortable, it comes to mind every time you think about dining out. Fratello's is one of our "go-tos". The atmosphere is cozy, the staff is well-trained and fun, the owner is always there to greet you and the food is delicious
You can sit at the lively bar, which we often do, in a cozy booth when you have more people or outside on the patio when the weather cooperates.
Start with one of their huge martinis like the Mango Martini; Bacardi Mango, Pineapple Juice, Cranberry Juice and Triple Sec. or, opt for a glass of wine like a Fleur de Mer, rose from Provence or an Antinori Sangiovese "Santa Cristina"
We always start with an Eggplant Rolletini appetizer, stuffed with creamy, ricotta cheese and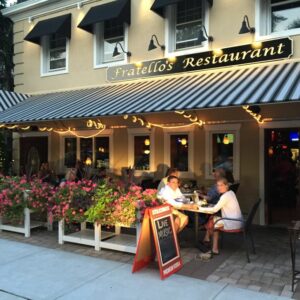 swimming in their award winning tomato sauce. The Garlic Shrimp is wonderful with jumbo shrimp sauteed with garlic, diced Roma tomatoes, scallions, capers and fine herbs in a chardonnay white wine and served over a crostini. The Rigatoni Baresi is a favorite with the pasta tossed with sweet Italian sausage, roasted peppers, garlic and oil and cannellini beans. The dish we come back to time and again is the Chicken Scarpariello; boneless chicken and sausage sauteed with garlic in a balsamic and white wine reduction. Big fan too of the Cesari "Mara" Valpolicella priced very reasonably at $39.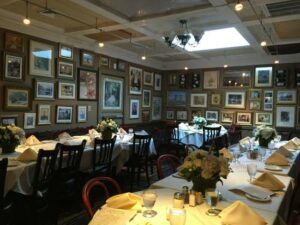 Delightful private room that can accommodate up to 40 people for a private party. See menus here.
Serving dinner daily and lunch Friday-Sunday. Live music on Fridays.
ROMANTIC QUOTIENT: The booths are cozy and intimate and there's something about a balmy night on the patio with the lights twinkling in the trees.