The cuisine at Marigold by Jean-Georges reflects a passionate commitment to fresh, local and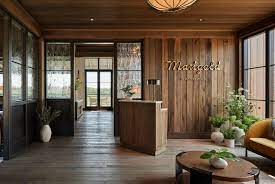 organic ingredients. The menu changes often to offer sustainable and seasonal produce that is at its peak – much of it grown at their own nearby farm. Meat, fish and dairy are locally sourced, where possible, from humanely treated, pasture-fed animals free of antibiotics and hormones.
The restaurant features 130 indoor seats, 20 bar seats and 70 outdoor seats. The design is a comfortable textural "rustic chic" with a mix of black and white stone and rustic hardwood floors, a distinctive bar with a fluted tile design, a stone fireplace and exquisite hand-wrought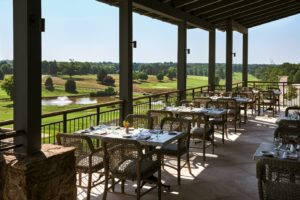 lighting fixtures from L'Observatoire International.
Menu items may include: Black Truffle Pizza, fontina cheese, frisee; Whiskey Poached Lobster,  passionfruit butter, glazed carrots; Peppercorn Crusted Waygu, gnocchi, brussels sprouts, sriracha; Black Forest Bar, chocolate sponge, chocolate mousee, cherries, whipped cream
ROMANTIC QUOTIENT: Very romantic especially on the Terrace on a beautiful night.
WHAT OTHERS SAY…
"With its stunning, panoramic views and seasonal Southern fare elevated by French and Asian influences, Marigold is more than a restaurant, it's an event." Virginia Living Magazine