'A meal in Provence' is how Café Sole describes itself and that is a very apt description. The setting and the wonderfully prepared seafood with a French influence can transport you to the French countryside. Owners John and Judy Correa have created a very special place that is will be a highlight of your trip to Key West.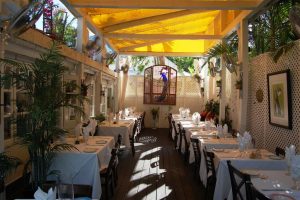 You enter the garden through a high white gate into a lovely haven where the aromas from the kitchen heighten your anticipation. Sit in the garden, the small bar area which has two tables or an intimate back room. The garden is beautiful, the bar area a bit hectic but in the center of all the activity, and the back room is private and cozy.
My meal started with blackened shrimp served with a mango salsa made from mangoes, jalapeno, onion, cilantro and lime juice. The shrimp was just slightly blackened to capture that flavor but not to overwhelm and combined with the delicious salsa, was a flavor explosion.
I followed that with Chef Correa's signature and award winning hog snapper dish. Seldom available outside the Keys, I have come to love this delicate fish with a taste almost like shrimp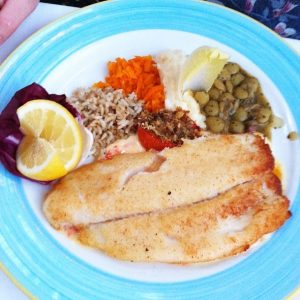 . It was perfectly cooked and served with a very tasty red pepper zabaglione. Coupled with a glass of a crisp white Bordeaux, this was one of the best meals I had in Key West.
There is a noticeable difference between a staff that is just doing its job, even if very well, and one where you sense their work is a labor of love and devotion. Café Sole is that kind of place. Everyone seems to really enjoy what they are doing.
The wine list is very well constructed and has been recognized by the Wine Spectator for its excellence. Happily, prices are reasonable with some excellent values.
Also open for lunch and Sunday brunch.
ROMANTIC QUOTIENT: High. While the garden area is very nice, I actually prefer the more intimate back room.
WHAT OTHERS SAY.
Award of Excellence – Wine Spectator .
Just relax and forget everything else at this little French-Caribbean hideaway in Key West, where the locals go for inspired seafood, particularly the incredible hog snapper, enhanced by a tropical ambiance and charming service; it's slightly pricey and the location away from the noise of Downtown can make it a bit difficult to find, but wayfarers assure it's worth the search.- ZAGAT