Bouchon is an opportunity to experience Thomas Keller's cooking without the price tag of a visit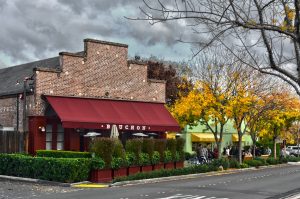 to The French Laundry. This charming bistro on Washington Street in Yountville offers the same attention to detail as its upscale counterpart in a more casual, laid back atmosphere.
The brick and burgundy colored wood building is surrounded by planters filled with bright flowers and bushes. When the weather cooperates, dining outside is a delightful option.
Renowned designer Adam D. Tihany created Bouchon's interior that includes  a French zinc bar, a mosaic floor, antique light fixtures, and a handpainted mural by French artist Paulin Paris. Huge bouquets of flowers, brass topped banquettes and crisp linens complete the bistro look.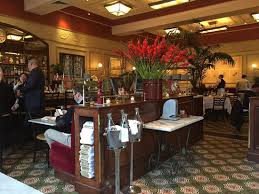 Nice list of cocktails and wines by the glass. Try the Tequila Thief, Reposado Tequila, Creme de Cacao, Hibiscus, Lemon, Mezcal Rinse. For wines, you can get a glass, a carafe or a bottle. Vin de Carafe are wines sourced from regions surrounding  the restaurant. These wines are selected in barrel from the cellars of the finest California winemakers and are only available in the restaurant while the barrel lasts. Very cool idea.
The menu changes with the season, although favorites like roast chicken, leg of lamb, and trout amandine are available all year and deservedly so, the roast chicken we had was fantastic.
Start with something from the fresh raw bar, or try the deviled eggs or French onion soup and the escargot comes in an incredible puff pastry from the Bouchon Bakery. Any one on the staples above works well as an entrée, but we also loved the Steak Bouchon, pan-seared eye of the rib & sauce Béarnaise, served with French fries and the Moules au Safran, Maine bouchot mussels, steamed with white wine, Dijon mustard & saffron and served with French fries
ROMANTIC QUOTIENT: Inside can be noisy, but the outside patio is very intimate.

WHAT OTHERS SAY 
One Michelin star
"Fans of this "delightful" "little sister to the French Laundry" in Yountville find it a "bistro extraordinaire" for "bubbles and oysters" followed by "carefully crafted" French classics and "amazing" wines (both local and from across the pond); the petite dining room "fills up quickly" and diners are packed in "like sardines", but the "charming" "Parisian feel" and "accommodating" staff add to the "sheer Keller excellence"; P.S. there's also a "popular bakery next door." ZAGAT