The mood at The American Hotel is set with crisp linens, sparkling silver and crystal, soft candlelight and fresh flowers in four elegant rooms decorated in Empire and Victorian antiques and furnishings.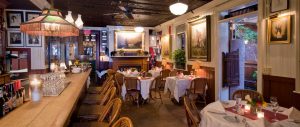 What's nice about this place is when you eat alone here, it has the feel of an old men's club, comfortable and cozy. Sit at the bar and drink in the local color. If it's a romantic dinner you are seeking, an intimate table beside the fireplace in the bar or a table in the adjacent Atrium will do the trick. You might even sit next to Billy Joel or Uma Thurman.
My quest for the perfect veal chop ended at the American Hotel. Well, I didn't really know I was on a quest until I had this perfectly seasoned, perfectly cooked delight. It was called a "special" and special it was. I started with a salad of endive and watercress with toasted chevre, aged balsamic and grape tomatoes and enjoyed a very good local Long Island merlot from Bedell.
The menu changes often but you can expect fresh seafood appetizers, including shrimp, oysters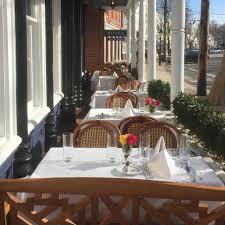 and chilled lobster, various kinds of caviar, tuna tartar, oak smoked Irish salmon and a more.
Long Island Duck, roast chicken, fresh fish, prime steaks and chops and game, in season, highlight the list of entrees.
The wine list is superb, earning the Hotel the coveted, "Grand Award" from the Wine Spectator, an award that has been bestowed on the restaurant for 20 years in a row. The cellar offers 1700 selections and has over 30,000 bottles. The list is some 85 pages long and is very fairly priced with many bottles under $40.
ROMANTIC QUOTIENT: High
WHAT OTHERS SAY…
Wine Spectator Award Winning List
"Charming, elegant" environs whisk diners away to "an earlier time" at this East Hampton "standout" – an "intimate" inn set in a 1663 home – dishing out "fabulous"American fare with a local leaning; the "very special" surrounds and "gracious" service fetch "expensive" tabs, but a "cozy", fireplace-warmed tavern downstairs offers a more "casual" "escape from the typical buzz." ZAGAT