OVERVIEW of The Point
Imagine having a wealthy friend who purchases one of the Great Camps in the Adirondacks, decorates it exquisitely, hires a world class chef, outfits it with every possible recreational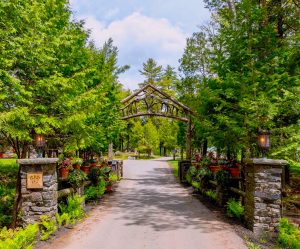 amenity and then invites you and some other interesting people for the weekend….that my friends, is The Point.
I must admit to some trepidation before my arrival. I had read so much about The Point, I feared it could never live up to the hype. And, I wondered, could any place be worth this nightly tariff? Well, it did live up to the hype and it was worth every penny. Staying here is an experience not to be missed…..at least once, but one stay will have you hooked. To this day, it was the most amazing 24 hours we have ever experienced.

Once the retreat of William Avery Rockefeller, The Point was constructed on a 10 acre peninsula on the Upper Saranac Lake. Its remote location is reached via special directions which arrive upon payment of your stay. Instructions suggest you arrive in time for lunch at 1pm. Adding to the mystique of The Point, there are no signs, so you must follow the directions carefully to reach your destination (like set your odometer to 11.6 miles from the blinking light) when you must punch in a special code to open the gate and drive down the main road to reception.
THE ROOMS at The Point
There are 11 rooms at The Point, all individually decorated in a rustic, but very elegant, Adirondack style. Our room, the Adirondack, had been Rockefeller's library. A delicious bottle of wine welcomed us to the room. The walls were lined with bookshelves, there was a plump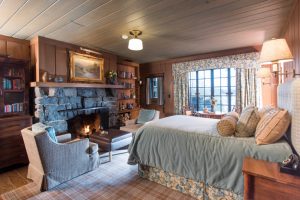 reading chair and ottoman, a couch with a fur throw under the iron paned picture window, a walk-in closet and a featherbed you never want to leave. The two room bathroom suite had a rain forest shower that belongs in our "Shower Hall of Fame", a wonderfully powerful and invigorating soak. Mysteriously, the shower would come on from time to time with no one around. The owner told us they have had any number of plumbers in to determine why it happens, but to no avail. Perhaps it is old Rockefeller letting us know he is still around.
DINING at The Point
Breakfast begins with a soft knock on your door and the arrival of coffee at a time you pre-determine. You may enjoy a full breakfast in bed, on the patio or in the Great Hall. The choices are limitless, from Eggs Benedict, to the poached eggs and homemade hash we enjoyed to smoked salmon to kippers. One guest told us of requesting shrimp grits on a previous stay. The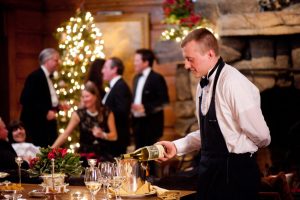 kitchen apologized that they had no grits. but it was on the menu the next day and remains there today.
For lunch guests are seated "en famille" or family style at two large circular tables surrounding another fireplace. We enjoyed the company of a couple who were making their 17th annual visit (he develops shopping centers) and a "Sir" and "Lady" from London.
Lively conversation ensues as a delicious beef tenderloin and shrimp lunch with a light horseradish sauce is served and complimented with a wonderful red Bordeaux. Guests linger over coffee and a decadent apple crumb crisp.
You can also opt for the kitchen to make you a box lunch to take on a hike or out onto the lake in one of the boats.
Dinner at The Point is an event whether you enjoy it with the other guests or in the privacy of your room. It begins with a note slipped under your door inviting you to 7pm cocktails and hors d'ouevres at a specified location on the property; on the launch on the lake, in the Pub or in the dining room. Black tie is requested for Wednesdays and Saturdays. It all just seems so civilized.
Our dinner companions included a TV personality and her new husband (son of a famed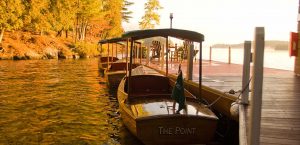 prosecutor) who had just been married at The Point that day, a young writer who was honeymooning with her European husband and a delightful couple from Connecticut celebrating a milestone anniversary.
Dinner was a marvelous 7-course affair paired with wonderful wines. It began with a shitake and egg custard and a 1998 Veuve Clicquot Ponsardin followed by a lump crab salad in a citrus sauce. A delicate fillet of turbot with a sauce Noilly Prat was paired with a 2003 Kitstler :Les Noisetiers."  A watermelon sorbet cleansed the palette and prepared us for the roast rack and loin of lamb, served with  2001 Paradigm Oakville Cabernet Sauvignon. A wonderful Crème Vanille and a selection of cheeses was joined with a 1999 Chateau Rieussec sauternes.
After dinner guests retired for the evening, changed and headed to the lean-to or enjoyed a lively game of billiards in the Pub.
THE SERVICE at The Point
As you arrive staffers appear to welcome you and to take your car and luggage. Champagne is offered, lunch plans are announced and you are introduced to other guests who have gathered around the huge stone fireplace in the Great Hall for a cocktail before lunch.
After lunch our host offered to show us around the property. We began with the kitchen, where we were introduced to each staff member, shown where the daily menus were posted and told we could come into the kitchen at any time to get a snack, request something different from the menu or even don kitchen whites and help cook! Amazing.
As we left the main building, John showed us a complete pantry bar, just off the entrance, and told us we could help ourselves at any time. We then visited the Pub, steps from the main building where there is another full bar, a pool table, board games, darts, puzzles and a plasma screen for watching movies from their vast selection of DVD's.
Next up was the Boathouse, along the lake, that housed a collection of electric and outboard boats available for guest use, a magnificently restored launch used for cocktail cruises and an antique Hack Craft used for staff operated tours of the lake. Oh, yes, another full bar was available in the Boathouse.
The last stop was at "the point" the highest elevation overlooking the lake. Here is where barbecues are staged for lunch and where there is a wonderful lean-to the likes of which you have never seen before. Set next to a large fire pit and outfitted with pillows and blankets, this is a favorite after dinner spot. Nestled in blankets before a roaring fire, it's the perfect way to end the day. Did I mention there was a full bar here as well?
At departure we were given a scrumptious lunch for the road, a wonderful canvas "The Point" carry-all bag and our car had been washed, cleaned and gassed up for us. Just incredible.
RATES at The Point
From $2,250 all inclusive for two people. Includes three meals, afternoon tea, unlimited liquor, wine and liqueurs and use of all recreational equipment.
WHAT OTHERS SAY About The Point
Forbes Five Star
Relais & Chateau member
It's "one of the musts before you die" sigh soujourners of the "once in a lifetime experience" to be had at this Relais & Chateau "escape from daily stress" on the Saranac Lake in the Adirondacks; "play robber baron" and indulge in the "fabulous service", "top notch" dining and "amazing" rooms featuring lake views, custom made beds and eclectic antiques; it'll "cost a fortune", but it's "pure class" ZAGAT
Conde Nast Gold List
Travel & Leisure "World's Best Awards"
#10 Best Small Hotels in US, Zagat Survey
Relais & Chateau member