OVERVIEW of Sofitel Washington DC
The French inspired Sofitel Lafayette Square is a favorite for its service, stylish rooms and price/value. With 220 rooms and 17 suites, this charming hotel is both comfortable and intimate.
I was greeted immediately upon leaving my cab and the doorman introduced himself and asked for the name on my reservation. We made our way down the marble hallway, festooned with a dozen or so Cala lilies where I was introduced to the reception clerk. Check-in was swift and I was on my way to my room in a matter of a few minutes.
THE ROOMS at Sofitel Washington DC
The European styled bedroom, with a city view, was a good size with a writing desk, reading chair and lamp. It was decorated in colors of beige and hunter green with dark wood furniture and accents. The walls had black framed prints of France and Washington with an interesting impressionist oil painting over the bed which I took to be the coast of Normandy. The queen
sized bed had a feather top, down duvet and plump feather pillows and made for a wonderful night's sleep.
French doors opened onto the bathroom which was large and done in a green and beige marble. There was a separate tub and glass shower, a vase of fresh orchids and wonderful Roger & Gallet toiletries from Paris.
DINING at Sofitel Washington DC
Opaline Bar & Brasserie is a stylish and contemporary brasserie serving all meals and featuring a classic French menu.
The all-day menu has favorites including Oysters on the Half Shell, Boudin Blanc, Steak Frites,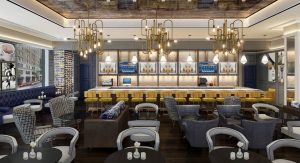 Rattatouille, Herb Roasted Chicken and our signature Opaline Burger topped with gruyere and caramelized onions.
The Bar offers classic bites such as Escargot and Deviled Eggs, as well as more satisfying plates like Moules Frites, Croque Monsieur and Tuna Nicoise.
A well appointed health club which is open 24 hours and accessible with your room key.
THE RATES at Sofitel Washington DC
From $279Peak Season Weekend
WHAT OTHERS SAY About Sofitel Washington DC
A "stone's throw from the White House", this "upscale Euro" favorite satisfies with a "French flair" and "boutique ambiance" overseen by an "impeccable" staff; its "sumptuous" rooms sport a "retro, art deco design" with trendy accents and baths beautified by "Fresh orchids" and Roger & Gallet toiletries, and on-site fitness center is "top notch"; PS the "large, welcoming bar" is a local "after work" "hot spot". ZAGAT
PROMOTIONS at Sofitel Washington DC
Click here for this property's promotions.