OVERVIEW of Simpson House Inn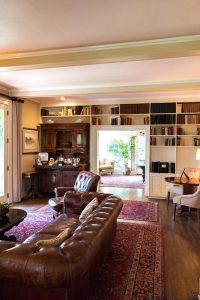 Located in historic downtown Santa Barbara, the Simpson House Inn is the ultimate in Bed and Breakfast perfection. Built in 1874, the actual structure is everything you would expect from a historical home; ambling gardens, cozy nooks, creaking stairs, and rooftop garrets that, though rustic, you wouldn't want to have any other way. The front yard had the most gorgeous fountain, transporting me to Italy by way of the carved cherubs and intricate floral patterns.
The sitting room of this impressive Victorian home feels like a time warp. And as you read the notebook on the table outlining the story of the Simpson House, this feeling becomes even stronger. Built before electricity even reached Santa Barbara back in the 19th century, the sitting room displays decades old antiques, clocks, and architecture and though it's undergone a renovation or two, the historical feel remains to make this B&B a truly special destination.
THE ROOMS at Simpson House Inn
There are 15 guestrooms, suites and cottages on the property. My room, the Sun Room, was on the second floor of this rambling old Victorian. Though small in size, it was big on comfort and
coziness. The bed was soft, topped with the finest linens, and the bathroom offered only the fluffiest of towels. Decorated with white wicker furniture, toile wallpaper with gold leaf and though there were such modern amenities as a flat screen TV, Pandora radio, streaming Netflix and Kiehl's bath products, I still felt as though I had been transported back to a time where electricity was still a sparkle in Edison's eye. I spent the afternoon reading on my sun deck with beautiful garden views and set with a teak table and chairs and umbrella, while eating the rum cake in the shape of a rose that greeted my arrival.
DINING at Simpson House Inn
Though the inn does not have a restaurant or dining room of its own, it does serve guests a delectable breakfast, either in room or on the sprawling verandah. Stuffed French toast and

scrambled eggs dominated the menu the morning I was there, and I can personally vouch for their supreme scrumptiousness. I chose to eat within the privacy of my rooftop balcony, amidst the birds chirping, the church bells tolling and the placid morning sun shining down.
THE SERVICE at Simpson House Inn
Guests "care and feeding" is paramount here. Tea time is all day, and upon arrival I was offered scones and cookies and tea or lemonade while my bags were delivered to my room. I was also informed that there was a complimentary wine and hors d'oeuvres hour in the early evening and a buffet of sweets later in the evening. Bicycles and beach equipment are available, there's a full concierge service, newspapers delivered to you door each morning and complimentary water and sodas in a mini bar.
THE RATES at Simpson House Inn
From $489 Peak Season Weekend
WHAT OTHERS SAY About Simpson House Inn
AAA Four Diamond Award
"Within walking distance of downtown Santa Barbara, this 'outstanding', 'charming and quaint' 1874 B&B-set behind tall hedges on a 'lovely' estate featuring an English country garden-entices with 'beautifully decorated' quarters and a staff displaying 'amazing attention to detail;' though penny pinchers find the 'smaller rooms overpriced'; most love 'celebrating a special weekend' at this 'romantic' spot. ZAGAT
PROMOTIONS at Simpson House Inn
Click here for this property's promotions.