OVERVIEW at The Sherburne inn
The words elegant, gracious and tranquil aptly describe this beautiful year round inn, just a block from the center of town. The first thing you notice as you approach the Sherburne Inn is the meticulously manicured lawn and the beautiful rear gardens surrounding an intimate setting of Adirondack chairs. It looks so inviting and the reality is even better.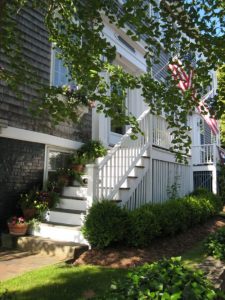 A stunning grand winding staircase greets you as you enter the Inn and pass into the parlor which serves as reception and host to afternoon sherry and cookies (this is a southern B&B tradition which we think is great) and morning coffee and tea. The parlor is exquisitely decorated with English wall coverings, antiques, furniture covered in rich fabrics, original hardwood floors and a working fireplace. Upstairs on the second floor there is a similar parlor, also with a working fireplace, that is ideal for curling up with a book, a pre-dinner cocktail or a board game on a rainy day. A collection of original artworks; oil, watercolor and sculpture adds an extra dimension to the beauty of the Inn.
Outside there's a small porch with chairs and an umbrella and down on the lawn the Adirondack chairs in the garden. Perfect escapes to read the morning paper or your favorite book.
THE ROOMS at The Sherburne inn
There are 8 wonderful rooms of varying sizes, but all elegantly decorated with English or French wall coverings, plush beds and piles of pillows, luxurious 100% Egyptian cotton linens and cotton towels, Aveda bath accessories, flat screen HD TV/DVD, complimentary wireless internet access as well as a guest workstation and printer to print your boarding passes and central air-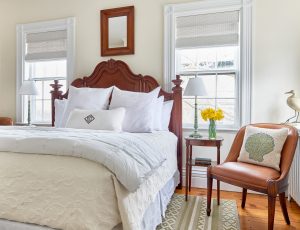 conditioning. Most have 4 poster beds and all are Queens or Kings. Our room, #4 was a delight, #8 is the largest room, has a little balcony and a claw foot tub. Love this little blog on why their beds are so comfortable…they go to a lot of trouble to insure you get a great sleep and we did.
DINING at The Sherburne inn
Coffee and tea are available in the parlor each morning from 7:30am and then between 8:00-8:30am a breakfast basket is delivered to each room. Each basket contains fresh fruit, yogurt, orange juice, and a variety of sweet tea breads. During our stay they were cranberry muffins that were absolutely delicious. Breakfast can be enjoyed in bed, or the breakfast can be carried out to the garden, sun deck, or enjoyed by the fire in one of the parlors.
THE RATES at The Sherburne inn
From $724 Peak Season Weekend
WHAT OTHERS SAY About The Sherburne inn
"There are many things that make this inn the perfect place for your Nantucket vacation, but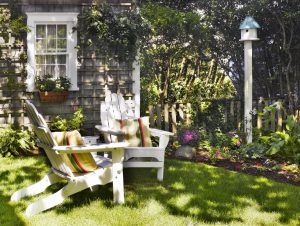 their unique touches are what make it different; its quiet, yet convenient location on the island, continental breakfast delivered in a basket outside of the room, and freshly baked cookies every morning exceed guest's expectations." – BOSTON MAGAZINE
PROMOTIONS at The Sherburne inn
Click here for this property's promotions.