OVERVIEW of San Ysidro Ranch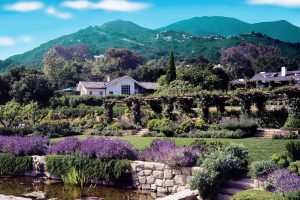 Tucked away in the coastal hills of Santa Barbara, San Ysidro Ranch is a quick drive from the freeway through a mélange of upscale neighborhoods landing you at the ornate entrance to the property. A long cobbled drive bordered on either side by verdant olive trees and fragrant lavender bushes seemingly delivers you into another world. This is where Vivien Leigh and Sir Laurence Olivier exchanged vows and John and Jackie Kennedy spent their honeymoon.
The property occupies some 500 acres between the Santa Ynez Mountains and the Pacific Ocean and the scents of Eucalyptus, Magnolia and orange blossoms perfume the air.
THE ROOMS at San Ysidro Ranch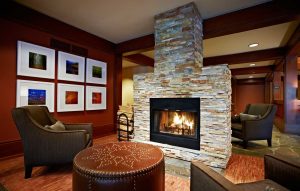 Forty one intimate cottages dot the stream and garden studded property, many named after a local tree or plant, making me feel a bit like I was at summer camp−an extremely luxurious, adult centered summer camp mind you. Each cottage is supremely private, with strategically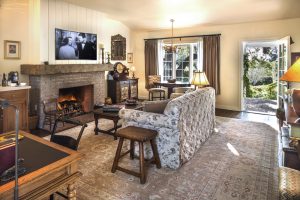 placed trees, shrubs and vines ensuring your separation from the outside world at large−no wonder John and Jackie Kennedy chose San Ysidro Ranch as their honeymoon destination back in 1953. An outside veranda beckons guests to linger on the porch in good weather, yet if it's cold, a dip in the private, outdoor Jacuzzi can be equally enchanting. After you rinse in the outdoor rain shower, continue the waterworks in the massive bathtub. Bath connoisseur though I am, I have never experienced a tub as wide, deep or long. The Bvlgari bath accoutrements, sage green chenille robes and extra large, plush towels only added to the overall luxurious ambiance of the bathroom.
Stepping into the main room of the cottage was like stepping into a fairy tale. Decorated in eclectic antique style, the cottage offered an intricately draped four poster bed, a gas fireplace that flamed to life at the flip of a switch, and a complimentary snack and drink bar made the room at once the picture of ultimate comfort and tranquility. From heated bathroom floors to umbrellas in the closet for a rainy day, to have every convenience and whim at one's fingertips is the ultimate in five star luxury.
DINING at San Ysidro Ranch
The Stonehouse Restaurant is the signature restaurant that sits in a 19th century citrus packing house with a lounge and a separate dining room with a fireplace and creekside views. Guests can also dine on the  ocean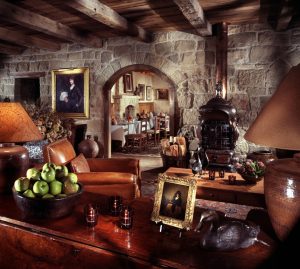 view deck where a a wood-burning fireplace and heated stone floor provides year-round comfort. The restaurant serves lunch, dinner and Sunday brunch. Awarded the "Most Romantic" Restaurant in Santa Barbara, the restaurant serves a California menu with fresh herbs and vegetables grown on the property. Stonehouse is the recipient of Wine Spectator's Grand Award for one of the best wine lists in the world.
Plow & Angel is a cozy pub with stained glass windows, original art and a roaring fireplace. It is a local's favorite and known for its Mac & Cheese and Ribs.
THE SERVICE at San Ysidro Ranch
I was greeted warmly at reception with a tray of still warm cookies and offered a glass of fresh lemonade. After an extensive run through of the myriad amenities that the Ranch has to offer, a very helpful bellhop escorted me to my cottage, gave me a brief tour which included a demonstration of how to work the fireplace, and brought in and arranged my luggage. Every staff member I encountered assured me that should I need anything, I only needed to ask.
RATES at San Ysidro Ranch
From $2995 Peak Season Weekend. All meals included
WHAT OTHERS SAY About San Ysidro Ranch
Forbes Five Star Award
Wine Spectator Grand Award Winner
"What's not to love?" about this "incredibly romantic" Relais & Chateau lodging that was good enough for a "Kennedy honeymoon" (JFK and Jackie's) and for "droves of Hollywood royalty"; the "gorgeous facility" is set on "incredible grounds" (rural, yet sophisticated) in the Montecito
foothills near Santa Barbara, and the staff "treats you like royalty", the "lovely" cottages are "secluded" (outdoor rain showers and hot tubs delight) and the dining is "fabulous"; its "pricey", but the recent $150 million renovation has made this one "worth every penny" ZAGAT
PROMOTIONS at San Ysidro Ranch
Click here for this property's promotions.