OVERVIEW of Rancho Bernardo
Nestled amidst the sprawling neighborhoods of San Diego's coastal mountains, Rancho Bernardo has been awarded the AAA Four Diamond award for 33 years running and has earned the Award of Excellence from Wine Spectator Magazine. It is a cozy and intimate respite just 30 minutes from downtown San Diego.
Stucco buildings with red tiled roofs surround an acclaimed golf course on a property with lush gardens, outdoor fire pits and hot tubs, secluded benches and trees with sparkling lights. The lobby and main hotel restaurants exude a hacienda feeling, enabling guests to experience the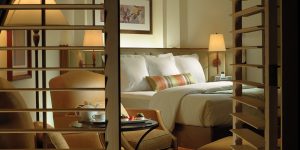 authentic side of San Diego. The lobby and reception areas offer an array of benches, couches, nooks and crannies with books and fireplaces on hand to ensure you have a cozy place to lounge.
THE ROOMS at Rancho Bernardo
Decorated in muted shades of greens, taupes and creams, and featuring natural accents of wood and raffia, guestrooms are large with a balcony overlooking the award winning golf course and picturesque spa swimming pool. A king size bed adorned with silken sheets and down pillows awaits after a long day. The bathroom, also large, has a deep soaking bathtub and a waterfall shower. Aveda toiletries and plump towels enhance the experience…..you can practically enjoy a complete spa experience in your own bathroom.
DINING at Rancho Bernardo
Avant exudes old school charm in a dining room rife with chandeliers, crystal, fine linen and impeccable service, all overlooking the award-winning 18 hole golf course. With indoor and outdoor seating, the restaurant serves contemporary California  cuisine using locally sourced
ingredients and offers an impressive 1,600 label wine list.
Avant Table 65 is an intimate private dining space with seating for up to 12 people. Table 65 features a full demonstration kitchen and an adjoining wine cellar and offers an "up close and personal: experience with Avant chefs.
Veranda Fireside Lounge & Restaurant is also a delicious option. Sit alfresco under the twinkling San Diego stars or grab a table by the fireplace in the restaurant's California casual interior while you nosh on Mediterranean style fare. Wood fired pizzas, fresh salads and sandwiches are just a taste of the many menu options. The Bar is a low key to grab your beverage of choice and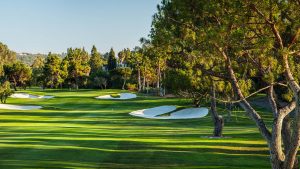 unwind after a long day in the spa or on the golf course.
THE SERVICE at Rancho Bernardo
No matter where you are on the property there is always a staff member to assist with your needs. They are friendly and personable and anxious to help.
THE RATES at Rancho Bernardo
From $420 Peak Season Weekend
WHAT OTHERS SAY About Rancho Bernardo
AAA Four Diamond Award
Wine Spectator Award of Excellence
"This 'sprawling' 'landmark' 30 miles north of San Diego is hailed for its 'player-friendly' golf course, …'enjoyable' spa and 'gourmet' El Bizcocho; sure, you'll see your share of 'corporate outings' and it feels like its in 'in the middle of nowhere', but it's comfortable enough for most." ZAGAT
PROMOTIONS at Rancho Bernardo
Click here for this property's promotions.